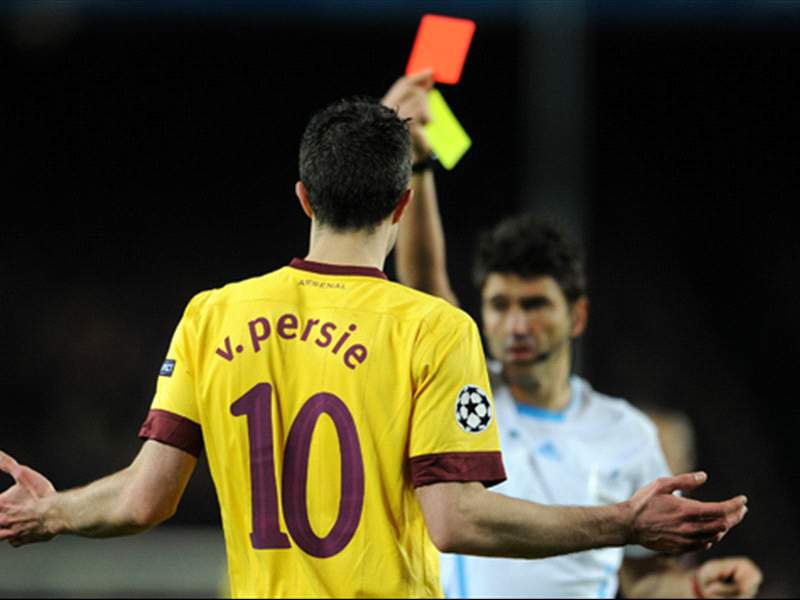 Arsenal
striker
Robin van Persie
has labelled referee Massimo Busacca a "joke" and that his decision to send the Dutch striker off "killed the game" against
Barcelona
in their Champions League clash.
Barcelona eventually won the game 3-1 thanks to two goals from Lionel Messi and one from Xavi, but it was with the score at 1-1 in the 55th minute that the controversial decision came, something which made the Gunners' task even harder.
"I think it had a big influence," the striker told
Sky Sports
.
"In my opinion it was a total joke the sending off because how can I hear his whistle with 95,000 people jumping up, how can I hear that?"
Van Persie looked to get onto a ball over the top of the Barcelona defence but mistimed his run and the linesman flagged for offside, however one second after the referee's whistle the striker fired a shot towards goal which the referee interpreted as kicking the ball away and led to the second yellow card, and it was the time between the whistle and shot which angered the Dutchman the most.
"It makes it even worse," he continued.
"I could understand the referee's decision if there was four, five, six seconds in between and you make a chip or something, but one second from his whistle to my shot is a joke.
"But he's been bad all evening, he's been a joke all evening, whistling against us, I don't know why he's here tonight, I think he's a joke."
Arsenal players, including van Persie, tried to explain to the referee that he had been unable to hear the whistle but it did not matter to Busacca who had already brandished the second yellow card and the subsequent red.
"I did explain there were 95,000 people jumping up so how could I hear his whistle," he added.
"But he said second yellow, unbelievable these people.
"We feel betrayed a bit because everyone fought really hard, when it was 1-1 it was all to play for and our opinion that ref killed the game."