ANALYSIS
By
Alex Dimond
When
Manchester United
take on
Rangers
at Ibrox on Wednesday, it will be tempting to conclude that the match is far more important to the hosts than their visitors.
United, after all, need only a draw to ease themselves into the knockout stages of the competition, a minimum aim for a club of its size and the point when they really begin to take things seriously. The Gers, on the other hand, know such a result will likely condemn them to Europa League football at best (depending on the result of the other game, between Valencia and Bursaspor), a fate familiar to them from recent European campaigns but one they are nevertheless still hoping to avoid.

MORE...
Times
journalist and his latest biographer Patrick Barclay, it is the painful memories of his playing days with the club that have driven him to such managerial success — the vast majority of it at Old Trafford.
Having arrived for a then-Scottish record £65,000 from Dunfermline Athletic in 1967, Ferguson — a striker who had fought his way up from unimpressive beginnings through a mixture of hard work and good luck — managed to notch up what looks an admirable goalscoring record of 44 goals in 57 appearances during his two-year stint at the club.
But unfortunately he was outshone by the unarguably superior Colin Stein, and his stay was also clouded by disagreements — including being sent to train with the youth team and, on one occasion, being forced to travel to a reserve fixture against Shrewsbury Town and then playing no part in the game — and he eventually left after he was blamed in some quarters for the goal that lost the club the 1969 Scottish Cup final.
"His time at Rangers helped give him the determination to be the best," says Barclay, chief football correspondent at
The Times
and author of
Football - Bloody Hell!
, the biography of Sir Alex.
"He failed as a player at the moment that meant most him — as a boy growing up in Govan he pretended he was scoring for Rangers in the garden, and he knew that succeeding at the club would bring glory, trophies and international caps — the things he wanted from his career. But ultimately he never achieved any of those.
"He missed the natural peak of his career, and so that void had to be filled in management."
His exit from Rangers might have focused his mind towards a life on the sidelines, but it also (with an assist from his wife, Cathy) pushed him towards the dugout in more direct fashion. With a deal to sign for English side Nottingham Forest all-but agreed in the summer of 1969, at the eleventh hour Ferguson and his wife decided to stay in Scotland, with the opportunity provided thanks to Falkirk. At Brockville Park Ferguson was soon appointed player-coach — starting him on a path that would eventually lead to Old Trafford.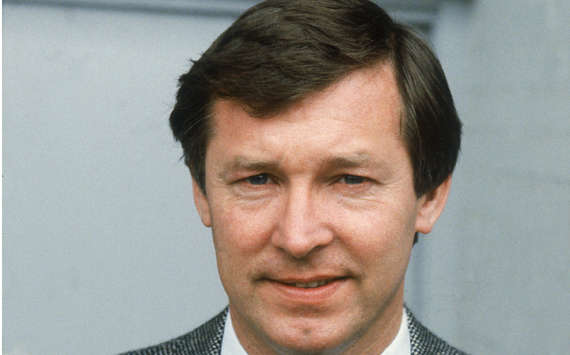 Winning mentality | Fergie relished challenging the Old Firm's dominance at Aberdeen
It was at East Stirling, in 1974, that a 32-year-old Ferguson would get his first chance in the hotseat, however, proving himself an impressive tactical thinker so immediately that he would accept an offer from the lower-placed but potentially more successful St. Mirren just four months later. In four years with the club he won his first trophy (the Scottish First Division, in 1977), but it was a subsequent move to Aberdeen that once again saw him draw Rangers into his line of fire.
"His idea, upon arriving at Aberdeen, was basically just to finish above Rangers and Celtic," Barclay states. "He thought that if you did that you'd win the league. The problem was that even then it was considered revolutionary to even think about finishing above the Old Firm."
After all, the two Glasgow sides had divided the league between them for the best part of a quarter of a century. But Ferguson had little time for reputations — least of all his own, as a hard-nosed disciplinarian — and soon had the Dons in a position physically and mentally to challenge the established order.
"He was always telling the players that the world was against them," says Barclay, explaining the motivational techniques Ferguson would employ to bring out the best in his squad.
"[Former Aberdeen striker] Mark McGhee also once told me that Ferguson regularly reminded the players of the importance of getting 'first blood' in a match. I don't quite know if that was meant metaphorically or literally, but the intention was certainly to get the retaliation in first."
Whatever the methods, they worked. Aberdeen pipped Rangers to the title three times (in his second season, 1979-80, and then in 1984 and 1985) and also beat their rivals in two of the four Scottish Cup final successes Ferguson enjoyed (in 1982 and 1983).
Unsurprisingly, given the success (which also included a Uefa Cup Winners' Cup in 1983), Rangers eventually inquired about hiring Ferguson as manager — not once, but twice. But on both occasions, they were left disappointed:
"The main reason, rather than the memories of his playing days there, was loyalty," says Barclay. "He had a genuine fondness for club chairman Dick Donald, and felt a loyalty to Aberdeen and his friends there.
"With one of the offers he received he actually went to John Greig — who was the manager
in situ
at the time — rather than the club, to tell him that he had been offered the job but had no intention of taking it."
"Ferguson regularly reminded the players of the importance of getting 'first blood' in a match. I don't quite know if that was meant metaphorically or literally, but the intention was certainly to get the retaliation in first."






- Patrick Barclay

After clubs south of the border including Wolves and Arsenal had tried and failed, it was Manchester United, in late 1986, who finally managed to prise Ferguson away from Pittodrie, after the proud Scotsman had led his country in an ultimately unsuccessful World Cup campaign, following the untimely death of Jock Stein prior to the summer.
At Old Trafford Ferguson achieved the greatness he had aspired to as a player — winning an incredible 11 league titles and two Champions League crowns among a host of other silverware.
Yet, despite such success, many still hark back to one of his first press conferences in Manchester, when he promised to knock Liverpool, then the powerhouses of English football, and their 18 league titles "off their f**king perch". Did memories of facing Rangers drive Ferguson's need to challenge the established forces?
"You could say so," Barclay agrees. "Liverpool were the Rangers and Celtic of England at the time. But it's worth remembering it was actually Arsenal, under George Graham, who first broke their stranglehold. Graham won the title twice before Fergie managed it."
One of those occasions was in 1989, when Michael Thomas' memorable late strike at Anfield ended one of the most dramatic title races in living memory. Barclay recalls Ferguson revealing to him what he made of the moment:
"He told me that, in 1989, he was watching the game in his living room and ended up celebrating just as if it was Manchester United who had won the title. They were remarkable circumstances, and it opened the door for United to achieve the same things — and more."
Now just one title from removing the Reds from a perch the two clubs are currently forced to share, now nearing 70 Ferguson is running out of time to achieve anything more from the game. He might get few more opportunities beyond Wednesday to face his boyhood club in competitive environments, but his biographer wonders if, after studying his career, Scottish fans might one-day yet see him prowling the corridors of the club oncemore.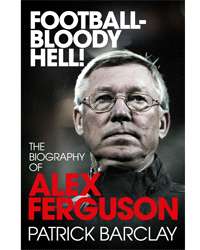 "He will get a fantastic reception at Ibrox [on Wednesday], because the fans realise he is one of them," Barclay concludes. "This is purely a personal opinion, but when I was writing the book I couldn't escape the notion that a presidential role at Rangers would appeal to him.
"He revisits his roots so often, both literally and metaphorically, that I think it would be quite fitting."
And perhaps, in future, it will. But not on Wednesday — when winning will once again be all that drives the old master.