COMMENT

By
Sulmaan Ahmad
If you can't imagine a task as tough as replacing
Cristiano Ronaldo
at
Manchester United
, try replacing
Thierry Henry
at
Arsenal
.
Eduardo da Silva took to that impossible mission with great poise and great promise. Though perhaps the victim of playing one too many game shunted out at left-wing, when given the freedom to lead the Gunners' attack, he did so with a potency that matched Arsene Wenger and Arsenal fans' ambitions.
And then came the tackle. If the timing and technique was bad, the fortune was far worse. Suffering a double compound fracture - in layman's terms, a broken leg, to the extent the bone tore through his skin - he was out of action for almost an entire year. And that was considered a reasonably swift recovery.
MORE...
He didn't lack for effort nor desire to rehabilitate, and Arsenal's staff and supporters rallied around him throughout much of the ordeal, but it wasn't to be. Thankful though he might be that he is still playing professionally, there is no escaping that his transfer this summer to Shakhtar Donetsk was only allowed by Arsene Wenger because the player was no longer good enough for the club. In what should have been his prime years, he is taking a step down.
The Champions League has sought to reunite the pair, as Eduardo will travel with Shakhtar to the Emirates for a group stage meeting on October 19; a meeting that will be an unquestionably cordial encounter and perhaps serve to bring closure for Arsenal fans and Eduardo himself, over an incident many still feel denied the Gunners a shot at the 2007-08 Premier League title.
| | | |
| --- | --- | --- |
| | | |
Gunned down | Eduardo never truly recovered from the horrific injury
But where one horrific setback ends, another sadly begins. The Champions League returned on Tuesday, with the only goalless game unfortunately set to be remembered for something far less pleasant than the fact it was boring, that Rangers played anti-football or that Sir Alex Ferguson fielded an under-strength side.
Fifty-eight minutes into the game came the tackle. If Martin Taylor's timing and technique was open to scrutiny, Kirk Broadfoot's was not. Valencia suffered a freak double fracture, which will keep him out of the game for an estimated six months.
Most disturbing was that the winger did not even immediately realise the severity of the injury. His reaction to his own injury was caught on camera and beamed worldwide, as he looked down at his ankle to see it hanging from his leg.
Strict TV censoring ensured it was not replayed, but it is the image in Valencia's own mind that is the most damaging and inerasable.
Expert view
| Valencia leg break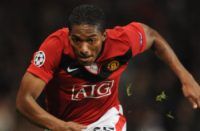 "By definition, he has suffered a ligament tear due to the dislocation and that is a worse injury than the break as they don't heal as reliably as a fracture."


Nicola Mafulli
Orthopaedic surgeon, London Independent Hospital
Fortunately, Valencia's injury doesn't quite compare to Eduardo's. "The likelihood is that he will take six months to come back. By definition, he has suffered a ligament tear due to the dislocation and that is a worse injury than the break as they don't heal as reliably as a fracture," orthopaedic surgeon, Nicola Maffulli, told
Goal.com
. "You are looking at least three months before he can do light training."
But the psychological factor and the competitive demands placed upon Manchester United as a club, as well as its players, could make life very difficult for the Ecuador international.
Nani has gone from strength-to-strength in 2010, particularly when playing from the right, and he will look to make that position his own in the six months he now has. Six months he must look at as a window of opportunity.
Valencia from the left is not same player, but equally, Nani from the left has often resulted in little more than frustration for Ferguson.
The injury may not affect his speed in the long-term, but for every Eduardo, Djibril Cisse (who suffered the same injury twice), and David Busst (whose career was ended by one of the worst leg breaks the sport has ever seen), there are very few Henrik Larssons (who came back from a leg break in 1999 to hit further heights, including a career highlight of a match-winning cameo in the 2006 Champions League final for Barcelona).
The medical ins and outs of the injury matter far less to the players themselves than the harsh and graphic reality of the injury itself. "This type injury has a huge impact on athletes who see how their bones have become detached. He must be continuously supported," noted Hector Bohorquez, a member of the Ecuador national team's medical staff.
Valencia's rise has been quietly incredible and understatedly unbelievable. The very notion of him being linked to Real Madrid in 2007-08 was met with mocking of the Spanish giants' desperation, but what a coup it could have been after all.
In the end, he was the winger who arrived at Old Trafford shortly after Cristiano Ronaldo's departure. He would never have and still never will hit the same heights - and not even play in the same style - but the ways in which Rooney enabled Ronaldo in their best years have already been mirrored, in a sense, by Valencia's constant assisting of Rooney. He made Rooney the aerial phenomenon that he was last season. His playing style is simple and old-fashioned but it yields direct results in a way very few wingers can produce in today's game.
He was never going to be the star player of any top team, dubbed the best to watch, selling the most shirts or single-handedly winning games. But he is a specialist, he is professional and was mastering the craft of wing-play in a way very few of his contemporaries have managed.
But he now faces his toughest test yet, if he is to return soon enough and sharp enough so that he may still enjoy the prime of his career playing at the level his talent deserves.
Our

provides the best breaking news online and our

football fan community is unmatched worldwide. Never miss a thing again!