COMMENT
By
David Lynch
If
Everton
's admirably efficient victory over
Oldham
on Tuesday evening had one downside for the hosts, that
Nikica Jelavic
failed to score was undoubtedly it.
DOWN IN THE DUMPS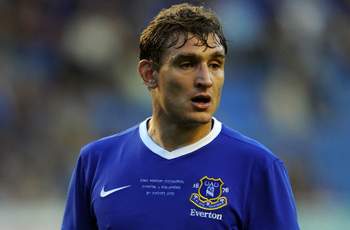 JELAVIC RATING VS OLDHAM





That he failed to get a touch on Osman's header before it found the net is a fair indication of his poor luck at the moment. Struggled to find his first touch when in encouraging situations, as he has for much of his recent barren run.
The Toffees were barely forced to break sweat at Goodison Park - prior to the unfortunately late introduction of Matt Smith - as they produced a professional performance to win 3-1 and seal their place in the quarter-finals of the FA Cup. However, the disappointment of their most prominent goal threat failing to spark against League One opposition in such circumstances was tangible.
The Croatian has, in fact, not netted since his side's last outing the competition, a 5-1 win over Cheltenham back on January 7. That run now takes in nine consecutive games without a goal, a record which would have been unthinkable this time last year as the forward made a blistering start to his career on Merseyside.
Back then, having notched a winner against Tottenham on his first start for the club following a £4 million arrival from Rangers, Jelavic simply could not stop scoring. He went on to plunder 11 strikes in 16 appearances as the Toffees overcame a poor start to the season to finish above Merseyside rivals Liverpool.
Now, however, his total sits at a meagre eight goals in 33 appearances - a return which is as unexpected as it is disappointing.
At the end of last season, discussing the relative merits of Everton's new prolific frontman and that of Luis Suarez was a popular topic of conversation between rival fans on Merseyside. And, though such analysis would attract only ridicule now given the subjects' differing fortunes this term, the comparison was arguably an entirely fair one at the time.
The Uruguayan, who is the Premier League's second highest scorer this season with 18 goals, was attracting plenty of criticism towards the conclusion of the last campaign for a profligacy which is hard to believe now. Jelavic, meanwhile, managed to pull himself within two strikes of his Liverpool counterpart having played only half the season.
But his statistics this term only serve to underline his sudden decline.
ON THE DECLINE


JELAVIC IN 2011-12

APPEARANCES
GOALS
MINUTES PER GOAL
SHOTS ON TARGET
CHANCE CONVERSION RATE
13
9
106
58%
43%
JELAVIC IN 2012-13

APPEARANCES
GOALS
MINUTES PER GOAL
SHOTS ON TARGET
CHANCE CONVERSION RATE

23
6
337
40%
25%
The 27-year-old netted a Premier League goal every 106 minutes last season, but has scored only every 337 minutes during the current campaign. The striker's shooting accuracy has also declined from 58% to 40%, whilst his clear-cut chance conversion rate is down from 43% to a lowly 25%.
Tiredness as a result of David Moyes' small squad is likely to be cited as the sole reason for the club's currently stuttering challenge for a top-four finish, but it is hard not to wonder what effect the Jelavic of last season might have had on this squad.
It is something Moyes made clear he was aware of prior to Tuesday's fixture, telling reporters: "Undoubtedly he can be the difference for us between now and the end of the season. I think if he fires and scores we can have a really strong end.
"Ultimately if he doesn't then you know it could be hard going between now and the end, we are going to have to keep grinding results out and plugging away."
That the Toffees are a home victory over struggling Wigan away from yet another Wembley semi-final in the FA Cup, despite their first-choice striker's battle with poor form, is testament to the quality amongst the rest of the squad.
But Everton can no longer carry passengers if their mission to end a 17-year trophy drought is to be successful.
Follow David Lynch on