COMMENT
By Jay Jaffa
Mike Dean's final whistle was barely audible above the boos as he blew an end to
Blackburn
's smash and grab victory over
Arsenal
, leaving disgruntled supporters pouring from their seats, spitting venom and bawling expletives at the Gunners' bench.
"Disgrace! Wenger has to resign after that. Disgrace!" an especially irate supporter shouted at the press box. And he was not alone.
This was the first occasion Wenger has ever overseen a home cup defeat to a lower league club. In short, this is his lowest ebb, and one that he looks powerless to recover from.
Some will point to the nature of the loss as proof that this was an unfortunate one-off. Arsenal dominated possession, had more shots and had a whopping 16 corners. Yet it made no difference. This is the second non-Premier League outfit the north London side have lost to this season following the hugely embarrassing reversal against Bradford in the Capital One Cup.
Some will say that it was mere misfortune that Arsenal did not convert their chances into goals. They were in on goal twice – Gervinho fluffed his lines, predictably, hit the crossbar, and drew young Jake Kean into a number of magnificent saves.
But that is the minimum expected when Arsenal play a team like Blackburn at home. Indeed, this same fixture last year saw the Gunners win 7-1. But when the pressure is on, the problem is, and has always been, the mentality of the players Wenger calls his second string.
He spoke in the build-up to the match of rotating his squad, but in a manner meant to reassure anxious supporters: "We only have big names in our squad, so it will be a team of big names, for sure."
Big names? Abou Diaby, one of those alleged 'big names' who underwhelmed again in midfield, demanded his team-mates show 'character' in his pre-game call to arms, but he was as guilty as the other starters of shying away from battle.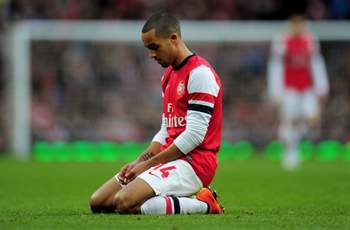 "We were not good enough today to win the game, it's as simple as that" - Arsene Wenger

The constant emphasis on 'character', 'mentality' and 'belief' have become a weight too big to bear for many of the players. Hoodwinked or not, it is clear Wenger's players just do not believe their manager's assertion that they can rise to these occasions that require something more than the motivation of Premier League points.
There is a belief that they can tap a ball around the pitch for 90 minutes and emerge with victory, as if this really is a training match. As if Blackburn just turned up for a runaround. What Wenger does not seem to realise, is that his own superiority complex has manifested itself in the conscience of the majority of his players.
Removing all but a couple of his key players was far too big a risk to take in a game that always looked like a potential banana skin. Blackburn barely surged forward but they knew, if they could nick a goal, or hold on to their clean sheet for an hour, their opponents would get nervous, worry about the repercussions, collapse.
By the time the trio of Theo Walcott, Jack Wilshere and Santi Cazorla arrived, it was too late. The fear had already set in. Wenger got his team selection wrong. If Wilshere and Co. were fit enough to come off the bench, they should have started the game and provided the drive and spirit required to break down a stubborn Championship team.
Taking the raw facts – Arsenal, traditionally one of the biggest clubs in England, and presently one of the biggest clubs in England, have been eliminated from both cup competitions by lower league opposition. This would be enough for some chairmen to hand the manager his P45 – especially following seven trophyless years.
With the Bundesliga leaders arriving on Tuesday night, is it worth going through the entire autopsy again? As fans and pundits alike rally against Wenger, it is time for the Frenchman to admit that he will never get Arsenal into a position to win a trophy and bite the bullet. His time at the club is done.
Follow Jay Jaffa on