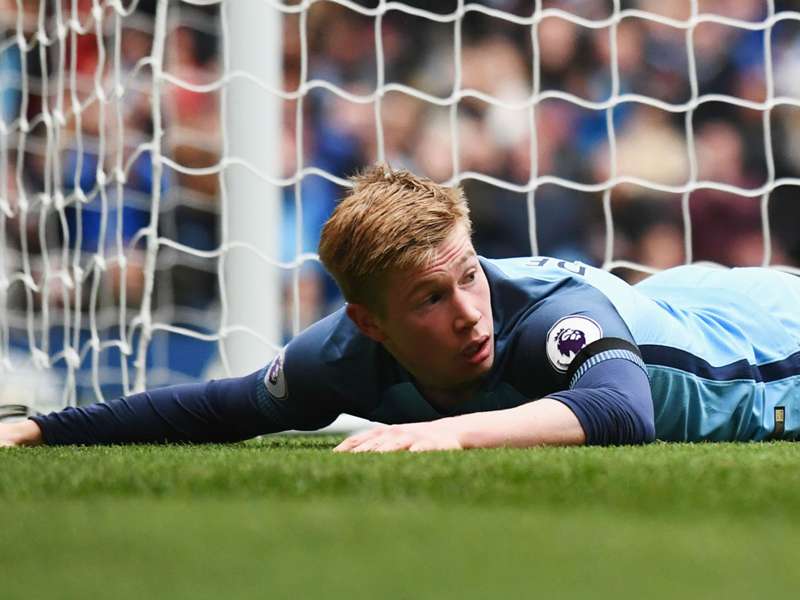 Kevin De Bruyne managed to come up with one of the misses of the season at the Etihad on Saturday as Manchester City took on Chelsea and it did not go unnoticed on Twitter.
The Belgium international managed to hit the bar from a matter of yards when it was surely easier to score and with it the chance to put the hosts 2-0 up and the game, potentially, out of reach of Chelsea's grasp.
De Bruyne's misery was compounded as Diego Costa promptly equalised for the visitors who went on to claim all three points, and it's fair to say that Twitter had little sympathy for the Manchester City man.
That De Bruyne miss is abysmal.

— Nizaar Kinsella (@NizaarKinsella) December 3, 2016
Good to see De Bruyne channeling his inner Ronnie Rodent Rosenthal @Crap90sFootball

— Matthew Scanlon (@mjjscanlon) December 3, 2016
#MCICHE
I think man city brought Torres to the game instead of De Bruyne

— adamz_pope (@adamspurpose) December 3, 2016
That De Bruyne miss will be remembered for a long time which is a shame because the move that led up to it was magnificent.

— Tony Barrett (@TonyBarrett) December 3, 2016
Kevin De Bruyne is a world class player... He should finish that chance every single time, any professional footballer should.

— Pint O' Football (@PintOFootball) December 3, 2016
De Bruyne hits the bar from a few yards out, the stupid idiot. #MCICHE

— Paddy Power (@paddypower) December 3, 2016
De Bruyne still thinks he's a Chelsea player #MCICHE

— Jamie Smith (@JamieSmith1504) December 3, 2016
Still trying to figure out how de Bruyne missed that

— Dan Kennett (@DanKennett) December 3, 2016
All #LFC fans can send a Christmas gift directly to Kevin De Bruyne at 1 Wide Open Goal Drive, Manchester, England. #badoomching

— Joe Mills (@Joe_Mills16) December 3, 2016
De Bruyne still red faced over the miss

— Colin (@ColinTyrrell) December 3, 2016