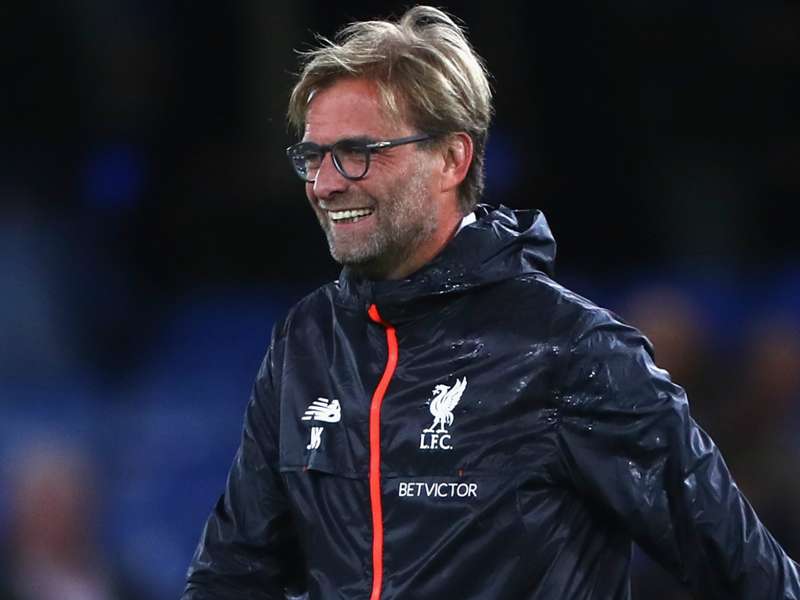 ---
COMMENT
---
Saturday October 8 marks the one-year anniversary since Jurgen Klopp took over at Liverpool from Brendan Rodgers.
While there was ultimately too much ground to make up to allow the Reds back into Europe, the German has brought his "rock and roll" style of football to the Premier League and has his side playing so well that they are currently considered genuine contenders to inherit Leicester City's crown.
But it is not just that there has been a dramatic turnaround in the Anfield side's fortunes that has generated excitement about this Liverpool vintage: the very manner in which they are achieving their success is cause for celebration in itself.
Klopp's thrilling brand of football that he honed at Borussia Dortmund after a spell at Mainz has been successfully imported and has made the Reds arguably the most exciting team in the Premier League.
In the 37 games the German has overseen, Liverpool have scored 73 goals – more than any side in the Premier League and more than West Brom and Swansea combined. Indeed, it is also three more strikes than Manchester City and Tottenham, not to mention 14 more than Chelsea and defending champions Leicester.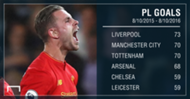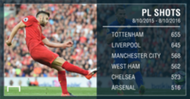 Part of the excitement they have generated has been brought about by the stirring tempo that they play at, which is ripe for producing chances. Tottenham might have outshot them both in terms of overall efforts and strikes on target but Liverpool are comfortably ahead of any of their other Premier League rivals in both categories. Indeed, over their last 37 games, they have mustered nearly 200 shots more than Manchester United.
At times the Klopp approach can be portrayed as gung-ho attacking, but in truth it is rather more cerebral, as the possession statistics over the course of the last year are testimony to. No team has enjoyed more of the ball than Liverpool's 58.8 per cent, which has seen them complete 16,382 passes (third best in the league) at 80.9% accuracy.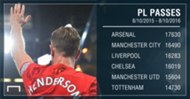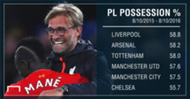 There is certainly no respite for the Reds defensively, either. Klopp helped to perfect the 'gegenpressing' philosophy at BVB – the idea that the ball must be won back quickly after it is lost by applying high pressure up the field.
"The best moment to win the ball is immediately after your team just lost it," Klopp has said. "The opponent is still looking for orientation where to pass the ball. He will have taken his eyes off the game to make his tackle or interception and he will have expended energy. Both make him vulnerable."
Implementing this style has allowed Liverpool to make far more successful tackles than any other side in the Premier League – 825 in total. This is only a shade under 150, more than the average of the 17 Premier League teams who have played 37 games over the last year and is testimony to the incredible pressure that their opponents are placed under.
It is an all-action style of defending. For a side that has so much possession, to make so many tackles is remarkable. For example, Arsenal – predictably second in average possession – have made only 667 tackles.
Klopp demands remarkable intensity, with his side covering over 4,000 kilometres of ground but most remarkably executing 20,764 sprints – around 3.5% more than any other side in the league over the same timeframe.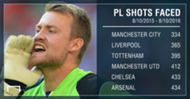 One would imagine that playing such an intense defensive game might take its toll. Teams might expose the press by employing a more direct style or even simply seek to wear Liverpool down by taking advantage of fatigue late in games. This has not happened, though.
The Reds have faced fewer shots per game than any other side in the league over Klopp's tenure with the exception of Manchester City, and only Manchester United and Tottenham have faced fewer shots on target.
So the manager's rock-and-roll style has been transferred perfectly to the Premier League, with its harmony of vibrant attacking play and in-your-face defending not only making Anfield a difficult venue for opponents, but a thrilling one for home fans.