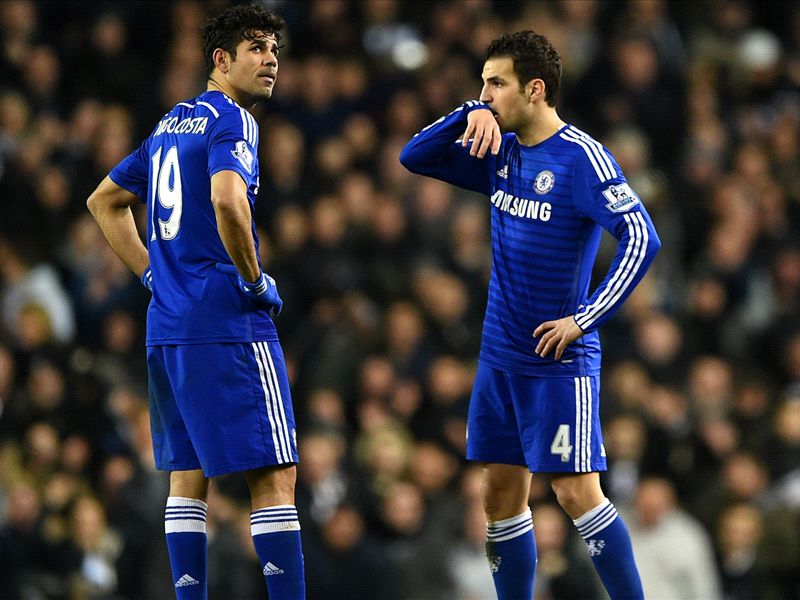 Chelsea
midfielder
Cesc Fabregas
says he covets assists like strikers covet goals, and says he "killed"
Diego Costa
for wasting one of his trademark through-balls.
Fabregas has laid on 15 goals for his team-mates in the Premier League this season, seven ahead of his closest rival, and tops the charts for total chances created.
And he admits he was less than pleased when Costa failed to convert one of his passes in the recent 5-0 thrashing of Swansea City, even though he notched three assists at the Liberty Stadium.
"I remember assists like a goalscorer remembers goals. I have a soft spot for them. The pass I was disappointed that it wasn't a goal was the other day against Swansea," he told
The Telegraph
.
"I hit a volley to leave Diego one‑on‑one with the goalkeeper and he didn't score, and I killed him afterwards because it could have been one of my best ever."
Current Arsenal playmaker Mesut Ozil recently revealed that he envisions situations before they happen when he is on the football pitch,
and Fabregas has shed light on his own thought processes, although he cannot explain exactly how he does what he does.
"You sense situations," he added. "I'm just thinking always for the next move, what will happen. I always try to look around before the ball comes to me, but I don't know specifically how I do it. It just comes naturally. Sometimes it goes good, sometimes it doesn't go good, but I try, I keep trying and I'm persistent in some final balls.
"You have to have the eye for it. You can see a pass and decide not to play it. Me, I see 10 passes and I will try eight, so I am very persistent. I know this will make me lose more balls than normal because I could player two-metre passes. But, instead, I prefer to try for the 30‑metre passes. I know like this I will always lose more balls, but at the same time I will create many opportunities for my team-mates.
"Sometimes you go five games without any assists and all of a sudden in one game you have three. It's always been a part of my game. I think every year I have good numbers in assists. I have a soft spot for assists and killer passes since I am very, very young. I like it."
Use the Opta tool below to relive Fabregas' influence in Chelsea's 5-0 win against Swansea.