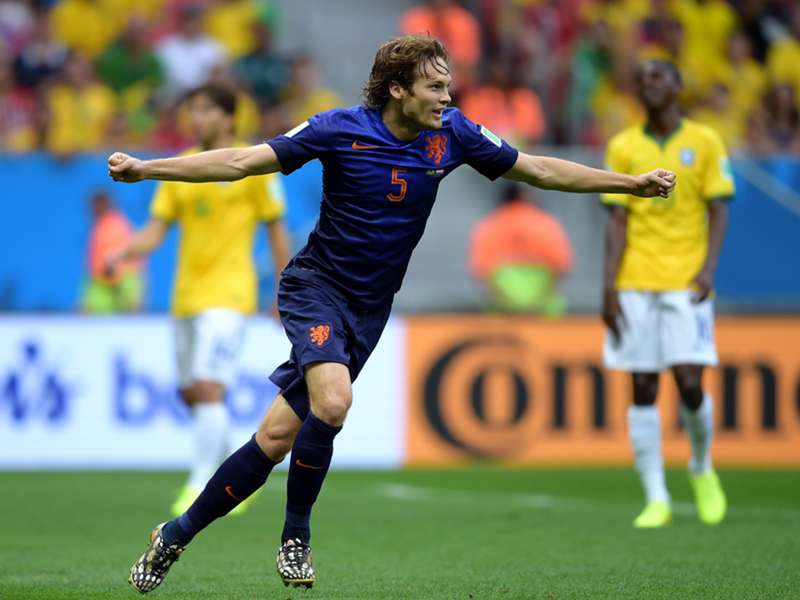 EXCLUSIVE
By Floris Koekenbier and Yanick Vos
Ajax
star Daley Blind has confessed that he would find it very hard to reject
Manchester United
or
Barcelona
were they to table an offer for his services.
The 24-year-old,
who finished 36th in the 2014 Goal 50
, has been continually associated with the English and Spanish giants this summer after a magnificent season in which he won the Eredivisie title and helped lead Netherlands to third place at the World Cup.
"Of course, it's flattering when you're linked with clubs like Manchester United and Barcelona," Blind told
Goal
.
"It would be very hard to turn down these kind of clubs. But there's no serious interest as of yet.
"You can never make promises in football. When you make a promise, you have to stick to it. There are plenty of players who promise to stay and then leave after all. I am keeping my options open. I am very happy in Amsterdam and at Ajax, but you never know what could happen."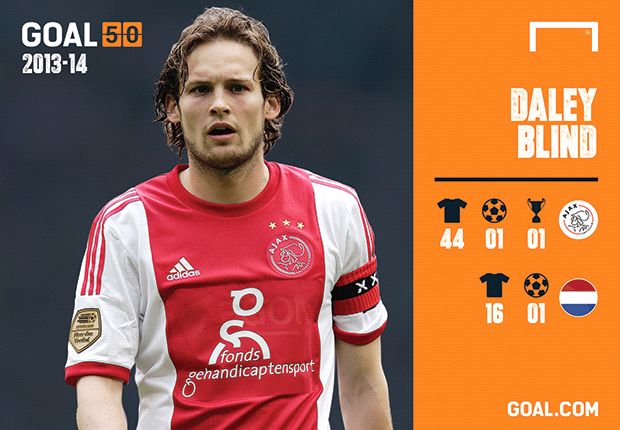 Blind has been most heavily linked with Man Utd due to the presence of Louis van Gaal, who was instrumental in his emergence with Holland.
But the ex-Groningen man is in no rush to leave Amsterdam and feels that La Liga may suit him more than the physical Premier League.
"I am still developing as a player. I am only 24-years-old, so I hope that there's still room for improvement," Blind explained.
"La Liga would suit my style of play. Perhaps England as well, but that's a very physical competition and that's not my biggest strength. I have made steps forward physically, but fighting out personal duels is not my thing. I am not like Jan Vertonghen, who is very powerful.
"The most important thing for me at a new club is that they play proper football. I would be more open to a club that plays proper football than to a club that only hits long balls."
Blind has gained a reputation as one of the game's most versatile players, having occupied numerous positions in defence and midfield for both club and country in recent times.
"Each player finds himself in a different position. Some players have been regulars since their 18th birthday. I only became a regular at a later age," he noted.
"I wanted to develop here at Ajax first and then wanted to win the Eredivisie title. I have done that four times now. I have not felt for a second that I'm done learning here or that I've had enough of Ajax. I still don't have that feeling."
Many youngsters in the Eredivisie depart the league prior to their 21st birthday, but Blind feels that sometimes it is wiser to remain a little longer in order to mature.
"I think it's a personal decision each player has to take," he said.
"Of course, it could be very tempting if I were to get an offer from a foreign club. But you can learn a lot in the Eredivisie as a player. Ajax often hold their own in the big games in Europe. I would advise youngsters to stick around a bit longer at a club like Ajax.
"A number of players have left Feyenoord for a move abroad, but that opens the door for new youngsters. It's always been like this and will always stay like this."
addCustomPlayer('1qceo3049mx781dat3b8ks12a0', '', '', 610, 544, 'perf1qceo3049mx781dat3b8ks12a0', 'eplayer14', {age:1402502867158});