REPLACING SUAREZ PROVING THE IMPOSSIBLE JOB
Brendan Rodgers
has continually insisted this summer that
Liverpool
will not hit the panic button in the transfer market.
He said it when Luis Suarez's transfer to Barcelona was confirmed and again when the Reds pulled the plug on Loic Remy's move to Anfield over a supposed problem with his medical.
Yet there are signs that the opposite might be the case behind closed doors at the Merseyside club.
In the last week, Liverpool have made attempts to sign Ligue 1 stars Radamel Falcao and Edinson Cavani.
Their ambition to even consider signing two of the most coveted strikers on the planet is commendable, but in reality they have no chance of signing either player.
Liverpool may have returned to the Champions League this season, but they have realised this week that it does not mean they can now shop in Harrods.
The signings they have made this season show very much that the Reds are still in the second tier when it comes to the transfer market.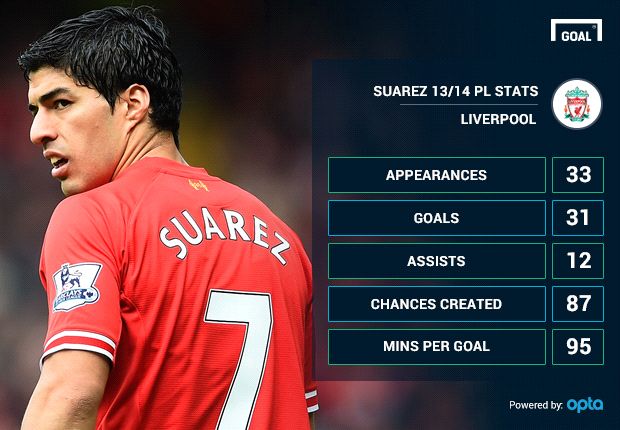 IMPOSSIBLE TO REPLACE? | Suarez was nothing short of a revelation last season
All of the players who have arrived at Anfield would have done so regardless of their Champions League qualification, especially given Liverpool's global status and significant riches.
The pool of players in which Liverpool are shopping can strengthen the squad significantly as they prepare to fight on several fronts while mounting another title challenge after last season's second-placed finish.
But they won't be able to replace Suarez.
Tottenham could not replace Gareth Bale, Arsenal could not replace Robin van Persie, and Liverpool will not be able to replace Suarez.
How can you? It was not just his 31 goals that made Suarez so electrifying last season. His leadership, flair, audacity and sheer will to win all need to be replaced, too.
Rodgers has been bullish when asked whether Liverpool risk repeating the considerable mistakes made by Tottenham when they sold Bale last summer.
"It's a different club and different vision we have here. At Liverpool there's a strategy behind what we are doing," he said.
The moves for Falcao and Cavani suggest, though, that the strategy includes buying a star name to replace the hole left by Suarez and to lead the attack.
Alexis Sanchez would have been perfect but he turned down Liverpool to move to Arsenal.
Now they are looking at audacious moves for players who are either out of their price range or beyond their pull of attraction. The whole world knows that, if Falcao leaves Monaco, his most likely destination is Real Madrid. It's unrealistic.
If Liverpool can land a big-name attacker, it will give them a huge boost ahead of the new campaign, but they are finding out just how hard it is to replace one-offs.
EVERTON WELL-EQUIPPED FOR TOP-FOUR ASSAULT
On the other side of Stanley Park, it has been a very good summer so far for Everton as they look to build on last season's fifth-placed finish.
After his 15 Premier League goals last summer, the Toffees have spent £28 million to sign Romelu Lukaku from Chelsea on a permanent deal.
He is joined by another player who starred on loan last season, Gareth Barry, while Bosnian midfielder Muhamed Besic has arrived in a £4m deal.
Just as importantly, John Stones and Ross Barkley have signed new contracts amid interest from rival clubs.
The two players are already key components of Martinez's squad and are bound to become future stars.
It means Everton have kept the core of their squad, while you can trust that Martinez will be on the lookout for some more clever loan deals towards the end of August.
David Moyes always suffered at Goodison Park because his best players were sold after impressive performances.
Everton have kept the vultures away - at least for now - and they are well placed for another attempt to break into the top four.