COMMENT
By Rich Jolly
The bare facts are that
Chelsea
have produced two
World Cup
winners in their 109-year history. They could have three more by the middle of July.
Yet while Oscar, Ramires and Willian may return to Stamford Bridge with medals, another World Cup winner has already been recruited. He could reshape the pecking order. He has the potential to consign Oscar, one of Brazil's first-choice side, to the bench in Britain.
Cesc Fabregas' glory day came in Johannesburg four years ago. Since then, Chelsea have grown accustomed to the sights of Spanish World Cup winners at Stamford Bridge, although the former Arsenal captain, like Juan Mata and Fernando Torres before him, did not win the most prestigious prize of all as a Blues player. No one has since Frank Leboeuf in 1998.
Before Leboeuf - the bald-headed centre-back, -the only one was Peter Bonetti, England's reserve goalkeeper in 1966.
So Oscar could make Chelsea history. It might be easier than making Jose Mourinho's side. His World Cup got off to a stellar start, with a fine display against Croatia. It has been less notable since then.
Oscar had managed 105 minutes of quiet graft when he was substituted against Chile. Willian came on, to miss a penalty, but Brazil's substitute is a likelier starter for Chelsea. Oscar appears an untouchable for his country, but not his club.
Oscar saw off the challenge of one Spaniard, Mata, for the No.10 position, displacing him before his form dipped. Stopping another, and a Mourinho signing at that, may be rather harder, unless he can recapture the spark he has mislaid in 2014.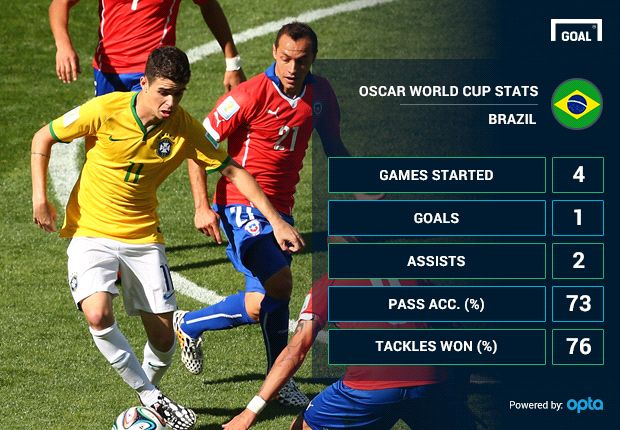 His best hope must be that Fabregas is chosen alongside Nemanja Matic at the base of the midfield, which could be a reprieve for Oscar, rather than slotting in behind Diego Costa, the probable main striker, as the creator-in-chief.
His status is more secure with the Selecao. Luiz Felipe Scolari has barely changed his Brazil team in a year. Mourinho is quicker to act and omitted Oscar at times in the final weeks of the season. The World Cup is a chance to re-establish a reputation, to remind everyone of his ability.
Four games in, he hasn't quite done enough. It is why the burden on Neymar is so great. Brazil's icon was the beneficiary of Oscar's finest pass in Belo Horizonte, an inch-perfect 50-yard delivery, lifted over the Chile defence for Neymar. It ought to have been an assist. It wasn't, but this was the Oscar Chelsea need to see more often: inventive, penetrative, decisive.
That apart, however, he was purely aiming for the best supporting Oscar. That is his way: he lets the spotlight shine on others and heads for the shadows himself.
There is an unselfish element to his game; he operated on the right in the first half and the left in the second, showing his versatility, and playing on the flanks for Brazil entails providing plenty of cover for the full-backs. Oscar doesn't have the ego that prohibits many a talent from tracking back.
He played his part in Brazil's pressing game. This is what endears Oscar to managers like Scolari and Mourinho; he is a flair player who can tackle.
What he hasn't done often enough, however, are the things we expected from an attack-minded Brazilian: score or make goals or indulge in displays of trickery. Mourinho may not want spurious flicks but his best teams have always been supremely efficient.
Frank Lampard's contribution could always be measured in numbers. He was machine like. While Fabregas is more artistic and while his spell at Barcelona isn't seen as a success, he still scored 42 goals in three seasons. Oscar has mustered 29 in that time, almost a third less. It is a marked difference, especially considering how Chelsea were outscored by Liverpool and Manchester City last season. Every goal counts.
Fabregas acquired an English attitude, that ruthlessness that Lampard possessed, that probably made him too direct for Barcelona's liking. Oscar isn't always greedy enough. He spends too much time on the margins of the game, too little imposing himself upon it.
He rarely threatened to score against Chile and his clearest chance was headed straight at Claudio Bravo, so tamely it was almost a back pass. His sole goal came in injury time against Croatia, whereas Brazil have relied on Neymar to score when it has mattered.
Can Chelsea count on Oscar to do likewise? The evidence scarcely suggests so. His only goals against top opposition last season were the third against Southampton and the fourth and fifth against Arsenal. They changed the scoreline, not the result.
And so, whatever he achieves with his country, Oscar's battle next year may not just be with Fabregas, but with himself; to prove he can be the match-winner.