Why do you support Arsenal?
That goes back to my childhood, man. Ian Wright was a big part to play in it, he was my guy in the playground. He's the name I would scream out when I would score a goal.
It's a funny story, though; my Dad was a Tottenham fan and he tried to get me to support Tottenham and I just wasn't having it.
I think I was attracted to the Arsenal kit at first but I just looked at them and thought: 'That's my team'. By the time I was older, I was like 'Dad, I don't like Tottenham, I like Arsenal' and that was it.
The Invincibles has to be one of the best moments for me and winning the league at White Hart Lane. Going the whole season unbeaten has to stand out.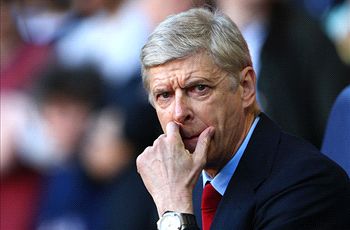 "If we don't win the FA Cup, Wenger should admit it's not working any more and we can get someone else in."
How do you feel about Arsenal's season? Is fourth place and an FA Cup final good enough?
The situation we are in now is good but, looking back at how we started, it is very frustrating.
If we didn't have the injuries, we would have had a stronger fight to win the league. Arsene Wenger doesn't look at the obvious at times. We needed strengthening in January and, yes, it would have been hard to get people in but we needed a better transfer window.
It's frustrating. It could be worse as Everton were giving us pressure [for fourth place] but I can't complain too much. If we win the FA Cup then that would round off the season well and people would stop giving me this 'nine years without a trophy' b*******.
We were on top the longest out of any team but, I guess, Champions League qualification again and an FA Cup win ... I'd take that now but not if you asked me in December.
Is Arsene Wenger the right man going forward for Arsenal?
I'm a huge fan of Arsene Wenger. He's done an amazing job and made the club what it is today but I honestly feel it might be coming to the end of the road for him.
His methods are not working any more. I think we may need a change and re-jig. I don't know who we will get but in terms of the way the game is evolving, I just don't think Wenger wants to evolve with it.
We can't compete with the likes of Manchester City and Chelsea and even Liverpool now. Manchester United have had a terrible season but they won't have another terrible season.
If we don't win the FA Cup then he should put his hands up and admit it's not working any more and we can get someone else.
Jurgen Klopp looks like a good manager and Pep Guardiola would be amazing and I think he would suit Arsenal ... not that he will leave Bayern Munich any time soon.
It's hard, though. Everyone is in jobs. That might be why we haven't changed managers as who are we going to get? Wenger has done such a good job over the years considering the budget - he has overachieved really. Even Sir Alex Ferguson could not have done the job he has.
If you want to win the league you have to spend the £150,000, £200,000 a week on a player's wages and we have to start doing that but Wenger is too stubborn.
You smashed your transfer fee with the signing of Mesut Ozil and made him your highest-paid player though.
In all fairness, performance-wise, I think we could have got more from him. He did boost the morale at the club but I think the injury to Aaron Ramsey affected him as they had real chemistry together.
He needed time to adapt but we was lazy at times. We needed more from him in the big games but give him another season and I'm sure he will turn into the superstar that he is.
| | |
| --- | --- |
| | "There is too much inexperience in England's World Cup squad. I don't see us getting out of the group. Ashley Cole should have gone, 100 per cent. He's one of the best left-backs ever." |
How big a blow is Bacary Sagna leaving Arsenal?
Sagna has been our most consistent player for I don't know how long. Week in, week out, you know he will give 100 per cent.
I'm hearing rumours that his contract is not up to scratch but, whatever he wants, we should give it to him as he will be very hard to replace. Whoever does replace him will probably cost even more anyway!
It's a huge blow. Huge, huge, huge blow. I didn't think Wenger realises this.
Anyone you want Arsenal to buy, as a replacement for Sagna or just to improve the squad?
We need a striker; a goalscorer and a leader. We could have got Luis Suarez if it wasn't for us f****** around but his price tag has gone through the roof now so we wouldn't be able to afford him even if Liverpool would sell him.
Karim Benzema would be great but I can't think of anyone who would realistically come to us. We also need a holding midfielder and another defender. Olivier Giroud has done really well but we need someone more prolific.
So you're expecting a busy summer, transfer-wise, then?
I'm not going to get my hopes up! Obviously the World Cup is on now so there will be scouts and usually a kid you've never heard about shines ... but you know Arsenal, man. I'm not expecting anything.
We will see what Wenger does but, if he wins the FA Cup, then he has another lifeline to prove himself. We definitely need to strengthen our squad.
The England squad was announced on Monday. Do you agree with the selections?
I think there is too much inexperience there. I don't fancy our chances at the World Cup. I understand what Roy Hodgson is trying to do by giving the youngsters a go but I don't think we are going to be ready.
International football is so different. Why England don't do well is because we are so used to the Premier League. That's why Germany, Spain and Brazil perform so much better is because their players play all around Europe.
I don't see us getting out of the group. Ashley Cole should definitely have gone. Absolutely, 100 per cent. He is one of the best left-backs ever, especially with his experience. Ross Barkley, Luke Shaw and even Leighton Baines are good players but they don't have the experience. Hodgson got that wrong.
It's going to be tough. I hope we go and just give it a go.
Are there any other footballers you would like to collaborate with after your cousin, Emmanuel Frimpong, featured on a song recently?
Not necessarily. I don't think I know anyone who has the lyrical ability. John Barnes might have some skills.
Who is more Dench? Jay-Z, Solange or you?
I don't want any problems so I'm going to say Solange.
Tell me about your new single, 'The Drop'.
It's out on June 1. It's just another club banger as summer is coming and I wanted to do something for the fans.
I'm doing loads of gigs around the summer and hosting Dench Parties and you can pre-order the single now. So come out!
Lethal Bizzle's new single 'The Drop' comes out on June 1. It will be played at half-time during the FA Cup final on Saturday. You can pre-order it now: http://www.lethalbizzle.com/