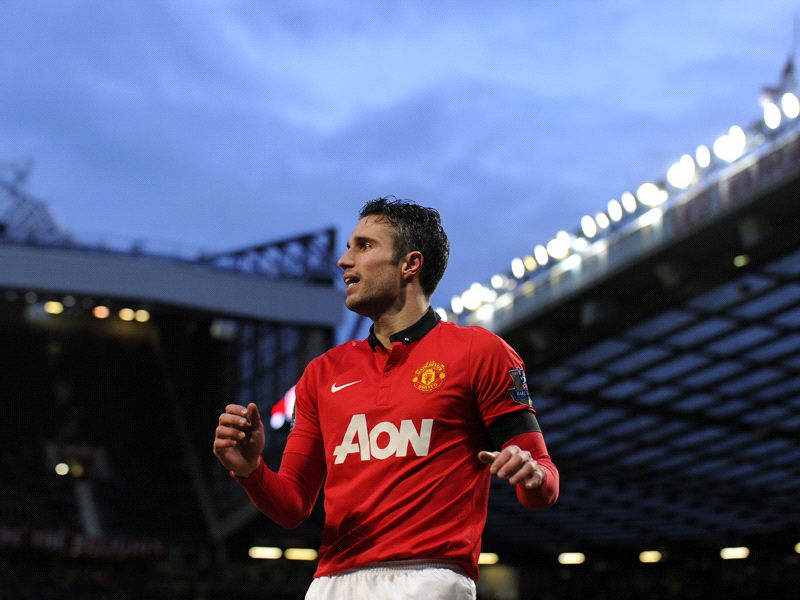 Robin van Persie returns to the Emirates Stadium on Wednesday evening as his struggling Manchester United side take on his former employers, Arsenal, who would return to the top of the Premier League with a victory.
In the corresponding fixture last season, the Dutchman was afforded a guard of honour, having just helped the Red Devils to secure their 20th league title, his decision to swap north London for Manchester seemingly vindicated.
But, 10 months on, United trail Arsenal by 14 points in the league table, leaving some to question whether or not the lavish sums of money spent on bringing Van Persie to Old Trafford could have been spent plugging the gaps in the champions' threadbare squad.
By Peter Staunton
No single signing has had as big an impact for Manchester United in recent memory than Robin van Persie and no single player did more for United's Premier League win last season than the Dutchman.
He elevated his side from mediocrity to championship material with his consistency and relentless goalscoring ability. Without Van Persie they are an ordinary side - as, indeed, has been demonstrated in his injury-enforced absence this season.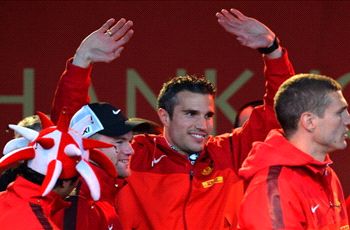 "For what Van Persie has delivered, he could even be counted among the top three United signings of all time"
Thirty-six league goals in 52 matches not only won the title for the Red Devils in Sir Alex Ferguson's final season but also have helped to keep them competitive this term when fluency and results have been harder to come by. Despite his considerable injury trouble over the past few months the forward has still managed 10 goals in 14 matches in this campaign - including his fair share of equalisers and winners.
It is no secret that Van Persie takes more management than other players and David Moyes will not truly unlock his potential again until he caters for the Dutchman's strengths, as his predecessor did so effectively.
If that means letting him pick and choose certain matches and training sessions then so be it. United have on their hands one of the most potent attackers on the planet. He has proven that time and again.
For what he has delivered, he could even be counted among the top three United signings of all time; £24 million for a world-class striker in his prime was a bargain and a brilliant parting gift from Ferguson to the club. In the space of no time at all, he became the vital player at Old Trafford, pushing Wayne Rooney to a mere cheerleading role and emphasising the gulf in quality between the two.
By the time that he hit a hat-trick in September 2012 against Southampton to bail out his side when they were 2-1 down, he looked a Manchester United talisman - the player to whom his team-mates looked for inspiration when they could not get the job done collectively. Against Liverpool at Anfield, Chelsea at Stamford Bridge, Arsenal and famously against Manchester City in the derby, Van Persie etched his name into Old Trafford folklore.
His United career is littered with such moments - crowd-lifting, momentum-swinging contributions which separate the good from the great.
By Greg Stobart
Van Persie may have won United the title with his goals last season but his arrival was little more than a short-term fix to give Ferguson his grand goodbye.
Most Red Devils fans would argue that the £24m transfer fee was worth the money but the total cost of the package that brought the Netherlands international to Old Trafford on a four-year deal is worth a stunning £73m once wages and image rights are taken into account.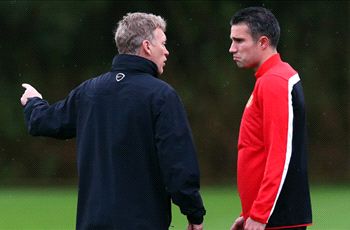 "Van Persie joined United to win trophies and few would be surprised if he kicked up a fuss to push for a transfer in the summer"
Now that cash would go some way to plugging the glaring hole in a United midfield which has been desperate for leadership and creativity for at least six or seven years.
Ferguson got his priorities wrong and what is left is a lopsided squad with an astonishingly weak midfield and a group of defenders who are either immature or well past their best. When you consider that Luka Modric left Tottenham for Real Madrid 10 days after Van Persie signed for United, it is obvious that United went to the wrong north London club to solve their problems in the summer of 2012.
Van Persie will be 31 in August, with two years remaining on his contract and with very little sell-on value should he seek a move away from Old Trafford - and, while he reproduced his Arsenal form under the genius of Ferguson - featuring in all 38 league games last term - it is a different story with Moyes in charge.
Do not let his 10 league goals this term fool you. Anyone who has been watching United will tell you that he is a different player this season, a peripheral figure in almost every game that he plays.
Moyes wants to build his team around Wayne Rooney and that has left Van Persie as something of an afterthought, given his almost non-existent partnership with the England striker. The pair exchanged just six passes during the whole game in the embarrassing 2-2 draw with Fulham on Sunday and two of those came from kick-off.
Then consider that Van Persie has missed 11 of United's 25 Premier League games through injury this season and has a poor medical history, having averaged just 24 league appearances a season during eight campaigns at Arsenal.
Van Persie partly blames Moyes's training methods over his injury problems this season, believing that he has been over-trained, and is known to be disgruntled with the Scot's match tactics.
He proved when he forced his move away from Arsenal that he can be a difficult character when he is unhappy and such an attitude certainly will not help Moyes as he looks to turn the ship.
Van Persie joined United to fulfil his desire to win trophies and few would be surprised if he kicked up a fuss to push for a transfer in the summer, especially if, as looks likely, the team fail to qualify for the Champions League. It would leave a bitter taste in the mouths of United fans, just as it did for the Arsenal supporters who once worshipped him.
Van Persie's genius in 2012-13 might have helped United to win back the title from their local rivals but that does not automatically justify the transfer. In the end, even United fans might end up concluding that the Dutchman was not worth the hassle or the money.