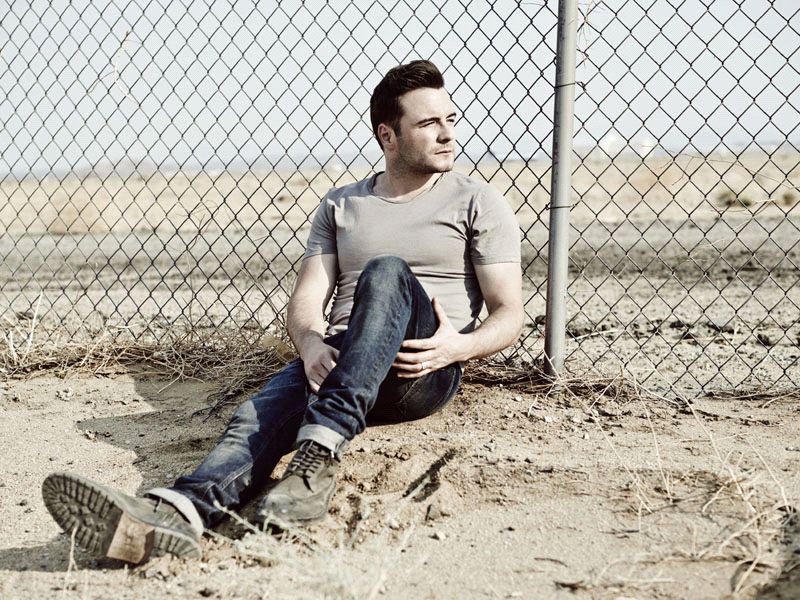 Goal sat down with Shane Filan, about to launch a solo career following 14 years of record-breaking success with Westlife, to talk Manchester United, playing alongside Zinedine Zidane, Luis Figo - and Hollywood A-lister Woody Harrelson.
What's your favourite Manchester United memory?
SF: It'd be the '99 Champions League. When you look back at it all, the way it turned on its head in a matter of minutes... excitement-wise, it's probably the best game of football I've ever witnessed. You just couldn't believe what was happening in front of your eyes, it was incredible. We were actually doing a video shoot out in Tenerife at the time, the If I Let You Go video shoot, but for every United fan that should be the highlight!
Who is your favourite Manchester United player of all time?
SF: Of my era growing up, I'm going to say Roy Keane. He's exactly who we're missing now in the team. We need a young Scholes again actually, if we had a Scholes and a Roy Keane we'd be wiping the floor with everybody.
And a Beckham and a Giggs...
SF: ...and George Best and Eric Cantona, yeah!
Things aren't going so well at United these days, though?
SF: I'm not worried right now, the other big teams aren't doing well either but it needs to start getting better. In six months we need to be in a much better position.
I think Rooney is coming back into form, he's on a great run at the moment. I think Van Persie has maybe gone a little bit quieter but he's still a great player.
If we don't finish in the top four it's going to be an absolute disaster, it would be catastrophic for Manchester United, they're not going to get the players because the players want to play in the Champions League, and any good players that might be available will go somewhere else.
I'm not too worried yet but he probably needs to buy a couple of midfielders in the transfer window, to get somebody in the middle of the park who can control the game, somebody full of confidence to spray the ball all over the pitch.
Like who?
SF: Fabregas would've been an amazing signing, a dream signing, and I think they have to try to get him in January. They need somebody like that, somebody with experience who can just come into the team and control the game, to not be afraid to slip a few passes through and take a few chances.
Are you behind David Moyes?
SF: I still think he's the right choice for Manchester United. To take over from Alex Ferguson is probably the hardest job for any manager to step into in the world. Out of everybody, he's probably the closest to Ferguson, somebody who can build a team. When Ferguson came in at the beginning it wasn't like clockwork either, and I think it is going to take time, but I think if he doesn't get top four this season he's going to get absolutely ridiculed and there's a lot of pressure on him.
If he finishes top four it will be an absolutely amazing result for this season, especially given the position they're in now, but I still think he's the right man and I think he will bring them back to being an amazing team, it will just take a bit of time.
When was the last time you were at Old Trafford?
SF: The last time I was at Old Trafford I was playing, for Socceraid. I got to play with Giggsy, it was amazing, it was absolutely incredible. Figo and Zidane were in the centre of the park, I was on the right wing and Giggsy was on the left wing so it was a pretty cool moment to say the least. I brought a load of mates with me, a load of United fans, and they were just shaking looking at me on the pitch, with Zidane passing the ball to me, Giggsy telling me where to put the ball in the penalty shoot-out. He told me to keep it low, hit it as hard for you can and aim for the side netting. I kept it low - hit it probably too well actually - but I scored a penalty at United which is pretty cool.
Did you not play when Westlife won celebrity tournament Soccer Six in 2002?
SF: Bryan [McFadden] and Nicky [Byrne] played in it, but when I was on tour - Nicky and Bryan would do whatever, jump out of helicopters, parachute jump, anything - but when I was on tour with Westlife I was always afraid that I would break a leg or something would happen to me. But they didn't and we were still in the same band so looking back maybe I should've played in it!
Do you play more these days?
SF: It was later in Westlife when I came back to football, I played when I was younger, played a lot of rugby. The last four or five years I've played more football than I've probably ever played. I started playing a night owl league, 11-a-side back in Sligo over the winter. Our team did well in it, we won the league and stuff. I ended up being top scorer one year in the whole league, 20 goals in 20 game - a 100% record, me and Ronaldo you know?!
So would you swap your Westlife career for one with Manchester United?
SF: Probably not if I'm being totally honest. I think looking back my career has been very lucky, it's a very close call - if you asked Nicky he'd probably say he'd rather be a United legend, but for me Westlife just wins it.
To get to play at Old Trafford and score a penalty, that's as close as I can get. Though maybe if I could play one game for United I'd swap a No.1 [single] for turning out once! That would've been a nice trade.
Who is the best celebrity you've played alongside?
SF: We had a lot of actors on our team at Socceraid. We had Gordon Ramsey in defence, he was an absolute lunatic going in for tackles from 19 feet. He got injured half-way through and had to get carried off. He was just crazy. We had Mike Myers up front, and he was a lunatic as well!
Woody Harrelson, he was funny, he came on near the end and ended up scoring the winning penalty. He's such a great character, he wasn't that good at footie, but he absolutely nailed the penalty into the top corner. It's probably one of the highlights of his career and he's not had a bad career, it's probably up there with Cheers!
Woody's a really nice guy, he came down to see us when we were on tour in Manchester and the lads were playing Soccer Six at Old Trafford a couple of years ago. It was pretty cool, he came down to see the game then came out with us afterwards. He was the same old guy, he was pure chilled and relaxed. He is definitely one of the nicest people I've ever met.
You're about to go on your first solo tour
...
SF: The response to the tickets has been incredible, it's practically selling out so by the time I get there it will probably be sold out, my first ever tour. Playing some amazing venues, venues I never got to play with Westlife obviously; two years into our career we were doing 10 Wembleys as our first London leg! It's crazy, but as an artist now I have to start again.
It's not like Westlife where the brand is so big that people just buy your album. I need to convince people: 'These are really good songs, I want to buy his album'. That's the kind of artist I want to be, I want people to love my music in general, not just one song.
Shane Filan releases his debut solo album on November 4 - www.shanefilan.com