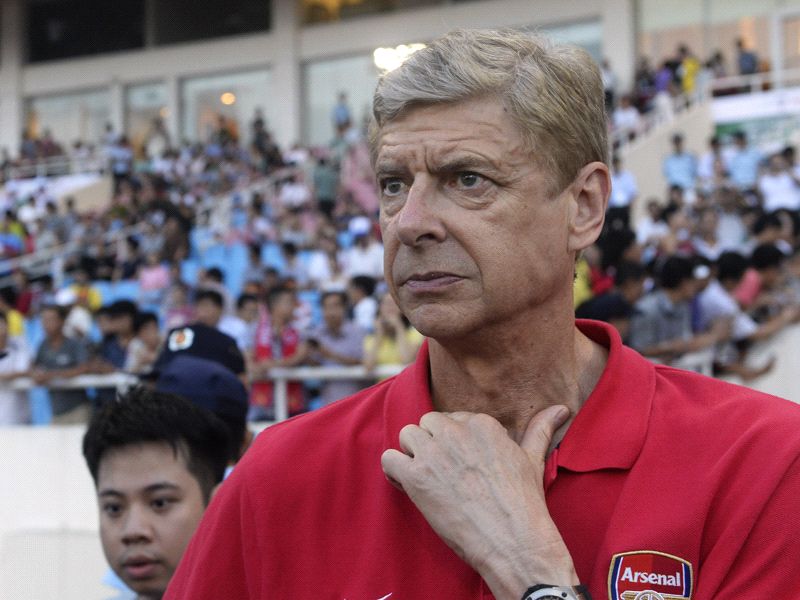 Arsene Wenger
has admitted
Arsenal
's focus on promising youngsters has contributed to the departure of key players in the past.
The north London side's failure to win silverware since 2005 has attributed to the sale of key players - such as Cesc Fabregas to Barcelona and Robin van Persie to Manchester United.
And Wenger has admitted he feels players have questioned his methods at periods during their ongoing eight-year trophy drought, both in the squad and potential new recruits.
"The egos are big, but you must know that a person, no matter how big a star he is, is ready to listen to you if it meets his needs," he explained.
"Unfortunately in management, you cannot cheat for a long time. When you are in a squad of 30 people, the players detect at a huge speed the weakness in your personality. If they think you are the man who can help them, they will respect you.
"The next step for them is deciding whether they are in a squad who can help them to be successful. We had that problem when we were under financially-restricted conditions.
"At Arsenal we have fought against the policy of only buying stars. For some players, we didn't have enough stars to be successful as quickly as they wanted to be."
The arrival of Patrick Vieira in 1996 began a succession of youthful stars who went on to great success - including the likes of Thierry Henry, Fabregas and Van Persie - and Wenger says a player's success is just as much down to mental strength than potential talent.
"One of our strengths is young people know we will give them a chance. We try to look all over the world to find players who have the talent and desire," he explained.
"But what we look for is their motivation to be successful. You also need consistency in your motivation and that is what we try to test in players as well.
"For me that is a very underrated quality. It means they are determined and they are ready to hurt themselves to be successful, and that's the type we are looking for - the people that are very demanding with themselves, and each other for a long time."