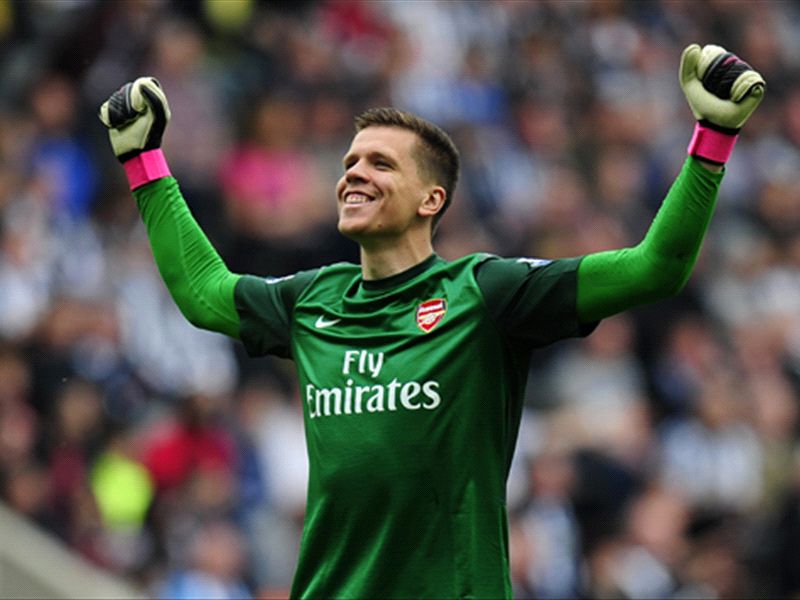 Wojciech Szczesny
insists he is confident in his abilities and is unfazed by reports
Arsene Wenger
is looking to sign a new goalkeeper for
Arsenal
.
As revealed by
Goal
in June,
Arsenal held preliminary talks with QPR about signing Julio Cesar
but stopped short of making a formal bid and it is now understood the Gunners have cooled their interest in the Brazilian.
Szczesny re-established himself as Arsenal's first-choice goalkeeper last season - despite Lukasz Fabianski's best efforts late on in the campaign - and he says any new competition for the No.1 shirt will only push him to improve further.
"Even if the boss was to make a big signing in goal, I would do my very best to compete for the No.1 spot," Szczesny is quoted as saying by
The Guardian
.
"I'd do my best for the club whatever my position. The club is in my heart and I wouldn't be thinking about going elsewhere. My head is pretty clear when it comes to that.
"You have to deal with the competition. I think that the competition from Lukasz when he was fit [last season] was pretty tough and I enjoyed it. It can only bring the best out of me.
"My confidence never gets crushed. Whatever happens, my attitude doesn't change. I still try my very best in training. I want to make sure I'm in the best shape possible.
"Whether someone comes in, it's not my decision and it won't affect me in any way. There is the same talk every year and no one has been brought in. I think the manager has shown enough faith in me to make me feel confident in my own abilities. So it doesn't affect me at all."
The 23-year-old was dropped for Fabianski in March but returned after his compatriot broke a rib to help Arsenal usurp rivals Tottenham for the final Champions League spot, and he feels more consistency could have seen the team challenge for the title.
"Comparing to the situation at the start of last season we are definitely stronger," he added.
"I think what you could see at the end of last season with our unbeaten run when we really had to dig in and get the results that we are, as a squad, good enough to compete for the title. There's no doubt about it. We beat Bayern Munich last season so we have shown that we've got the ability to beat the top teams.
"We've got the ability to be consistent over a longer period of time because of our run at the end of the season. It's just a matter of doing it throughout the whole year and if we can do that and be more consistent, then I believe we will push for the title."