Manchester United
have won the
Premier League
title after securing a 3-0 victory over Aston Villa at Old Trafford on Monday evening.
It is the club's 20th league crown, and Sir Alex Ferguson's 13th of his 27-year reign at the club.
RVP SEALS TITLE TRIUMPH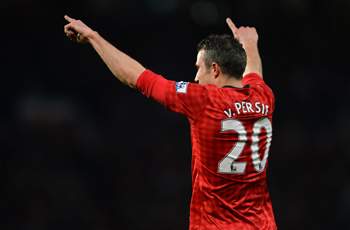 PLAYER RATING VS ASTON VILLA







What a way to win your first title. The Dutchman scored a hat-trick that included a volley of the kind you will be telling your grandkids about. Has been the difference between United romping to their 20th crown and a nervous battle with City. Goals like his second make that £25m price tag look a bargain.
FROM OUR LIVE! COMMENTARY


In an instant, United storm forward and show just why they're champions. Kagawa is given far too much room in the middle of the park and he sets Ryan Giggs clear and racing away with only Guzan to beat. The Welshman elects to find Robin van Persie rather than shoot himself and the Dutchman effortlessly evades the attentions of a Villa defender and from close-range, hammers in off the post to complete his hat-trick inside 33 minutes. What a player.
The Red Devils moved 16 points clear of Manchester City, who have five games left and 15 points to play for, after Robin van Persie's first-half hat-trick secured a comfortable win over Paul Lambert's side.
The Dutchman, who has now moved one goal ahead of Liverpool's Luis Suarez in the race for the Premier League's Golden Boot, struck his first of the evening from close range after just two minutes, while a stunning volley from the edge of the area was followed by another effort inside the box.
Manchester City clinched their first Premier League crown on goal difference on the final day of last season, but Sir Alex's team came roaring back during the current campaign and have blown their title rivals out of the water.
They went top of the table following victory against Arsenal on November 3, and despite being temporarily overhauled by City midway through the month, they quickly reestablished top spot and have not looked back.
Robin van Persie's last-minute free kick provided a dramatic victory over City at the Etihad Stadium in December and a six-point gap to go with it, and their late comeback against Newcastle on Boxing Day sent an ominous message to those at Eastlands.
United ended 2012 seven points ahead of their nearest rivals, and the gap would only grow as the new year wore on.
After City drew away to Liverpool and lost at Southampton in early February, United went 12 points clear by beating Everton at Old Trafford, with Sir Alex electing to play a strong side despite preparing to face Real Madrid in the Champions League.
The Scot admitted that the opportunity to open up such a large gap was too important to pass up, and although his side eventually exited Europe at the hands of
los Blancos
, they effectively put City out of sight by mid February.
And when City slumped to defeat at Everton on March 16, allowing United - in the midst of a six-game run without conceding a league goal - to move 15 points clear.
Sergio Aguero's superb goal at Old Trafford in a 2-1 City victory cut United's lead to 13, while Carlos Tevez secured victory over Wigan as United drew at West Ham a week later.
But City's defeat at Tottenham on Sunday presented the Red Devils with the chance to sew it up against Villa, and they made no mistake against Paul Lambert's side.
United had seven titles to their name when Sir Alex took over in 1986. The Scot won his first in 1992-93, and 20 years later he has guided his side to their 20th league crown.
In winning their latest trophy, United move two titles clear of Liverpool, who won their 18th and most recent in 1990.