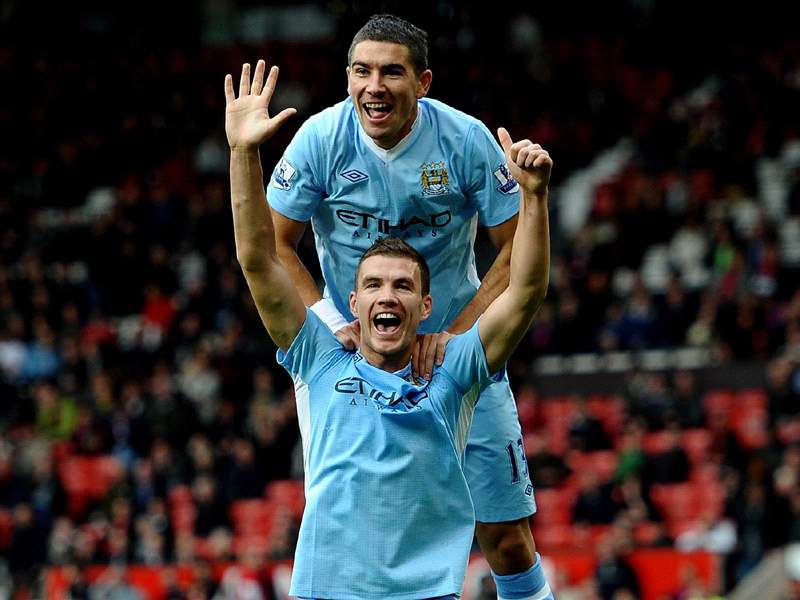 COMMENT
By Jonathan Birchall
When Manchester United and Manchester City emerge from the Old Trafford tunnel at 8pm on Monday evening for the city's 165th derby, 'This is the One' by the Stone Roses will greet them. For Sir Alex Ferguson, his team and all those on the red side of this ever-thinning divide, no soundtrack could be more apt.

They've waited long enough for this. Nearly 18 months have passed since that day. That humiliating, ground-shaking, "worst ever" day. 6-1. Six in the city. Manchester's new, blue order.


Try as they might, United haven't been allowed to forget their worst home defeat since 1955. From mugs, hoodies and posters to the big screen at each of the three derbies at the Etihad Stadium since, City and their fans have kept the reminders coming. Balotelli's t-shirt, De Gea beating the floor, Dzeko needing both hands to spell out the score to the away fans, effervescent in the top corner of Old Trafford's East Stand. The noisy neighbours have watched their rivals squirm since October 2011.
And who, really, can blame them? For all of the Abu Dhabi millions, the FA Cup semi-final win over Ferguson's side in 2010 and, of course, last May's outrageous, delirious title win, City did their time for long enough. As glorious failure defined the club, their neighbours relentlessly spent two decades winning it all. Author Colin Shindler describes the dynamic of being a City fan akin to spending your life with your nose pressed up against the sweet shop window, watching the United supporters take all the wine gums.
Therein lay the immensity of the 6-1. City didn't just beat United, they humiliated them at the ground at which they had won every league game for over a year. They made it into the sweet shop and ransacked the place. For United, a team for whom success has been simply innate for over two decades, to suffer their worst result at Old Trafford, to Mancini's side, felt so significant because it was.
The 15-point gap at the top of the Premier League suggests that talk of a Manchester power shift last season was woefully premature, but failing to recognise that what was once a chasm between two clubs is closing would at best be complacent and at worst downright suicide.
The £24 million signing of Robin van Persie, plus additional £12.2m going to the Dutchman every season, remains the most tangible evidence of United recognising the growing threat on the other side of the River Irwell.
And yet despite Van Persie and United's dominance this season, the memory of the derby demolition still flickers, and burns. "Do you think I'm going to mention that?" said Ferguson when asked about the 6-1 defeat in his pre-match press conference. "Do you think..? Jesus Christ."
Even for a man who holds as many grudges as he does trophies, it was a telling glimpse into exactly why Monday matters to the Scot. He shook his head, if not the memory.
Alexander Buttner, the other Dutch arrival at Old Trafford last summer, was similarly dismissive of the match they dare not mention at Carrington. "I don't know about this game," he said in December.
"I was not here and no-one has spoken about it."
Don't believe a word of it.
The fact for United is that Monday's derby and taking City's title has become their
raison d'etre
after a month which saw their treble dreams collapse following the Champions League and FA Cup exits to Real Madrid and Chelsea respectively.
City, for now, remain the champions of England. A win for United at Old Trafford against Mancini's side would leave them four points away from changing that, the unthinkable, for at least another year. Three points to all but win the league and exorcise the memory of that day.
For Ferguson, for United, for a year-and-a-half of pain, this is the one. Welcome back to Manchester.
Follow Jonathan Birchall on