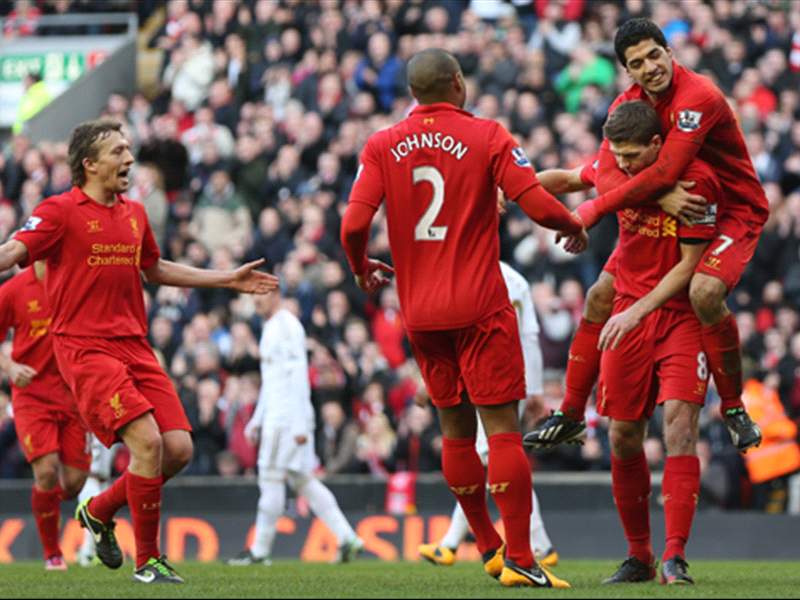 Liverpool
manager
Brendan Rodgers
has branded claims that his side are a "one-man team" centred on
Luis Suarez
as "very disrespectful".
The 26-year-old striker is in blistering form, with 28 goals to his name in all competitions, including six in his last three games, but the Reds boss insists that there are other players in his squad who deserve the plaudits as well.
FOOTLUIS


SUAREZ'S CLUB SEASON SO FAR

GAMES PLAYED
GOALS
ASSISTS
38
28
4

Nevertheless, the Northern Irishman is not shy about lavishing praise on his Uruguayan star, telling reporters: "His consistency this season has been phenomenal, really. He's a master marksman that this year has been really, really efficient and been outstanding.
"Listen, we're not a one-man team, I think it's very disrespectful to our other players in the team who have been outstanding, Steven Gerrard or the likes - he's got the most assists in the Premier League this year.
"We're very much about the team and Luis is a big part of that. Hopefully he can continue with the brilliant form he's been in."
Suarez is a leading contender for the Premier League Player of the Year awards but will need to fight off intense competition from Gareth Bale, with all eyes on the battle between the two in-form stars when Liverpool host Tottenham on Sunday.
The Anfield boss accepts the threat that the 23-year-old Welshman will pose to his side but stressed that his focus is on the performance of his own players.
"[Bale is] a phenomenal player, both for his club and for his country. He has been outstanding for Wales as well [as for Tottenham]. He's at the top of his game," Rodgers observed.
"We will always analyse the strengths and weaknesses of the team but for us our main concern is ourselves, bringing our own game into it and doing our work when the opponent has the ball."