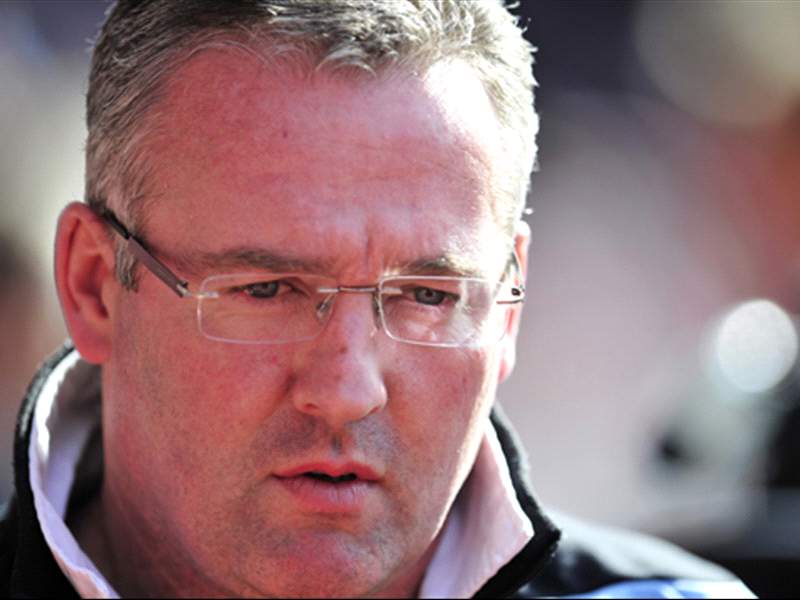 Paul Lambert
admits he is unsure of the points target required to secure
Aston Villa
's
Premier League
survival this season, but insists he is remaining positive about their chances.
Villa currently sit in 18th, equal on points with 17th-placed Wigan, and have faced a tough and disappointing season so far, picking up just five league wins in 27 matches.
But with 11 games left to play, Lambert has insisted that there is still time for them to turn their season around.
"[The season has been] Tough, but I think every season is hard," he told
Yahoo
. "Even if you're doing really well, you've still got to earn every win.
"I think we should have more points than we do because we played well in some games and came away with nothing. We've also been leading by two goals in some games but still couldn't see it through.
"However, there are still a lot of games to be played and points to be played for."
Lambert was also eager to sing the praises of last summer's big-money signing Christian Benteke, who has been instrumental in Villa's fight for survival.
The Belgian youngster joined Villa from Genk for a fee of around £7m last August and has scored 11 goals so far this season, equal with the likes of Wayne Rooney and Theo Walcott.
"We watched him more and one of the scouts saw him playing for Belgium and we decided to take a chance," Lambert continued.
"Nobody really knew too much about him before he arrived, but since he has I think his performances have been exceptional.
"Plus, he is also playing in a really good Belgian national team, is still only 22-years-old, and probably won't hit his peak until his late twenties."
Many are suggesting the points total required to secure safety this season will fall short of the fabled 40-point mark, and Lambert admits he is unsure precisely how much his side have left to do.
"We don't have a points target because you can never be sure how well a team is going to do," he added.
"With the way the lads are playing at the moment I can see us picking up some really good wins.
"In respect of a points target, I'm really not sure what is going to be enough to keep any of the teams up."
Despite becoming embroiled in a relegation battle, Lambert insists morale is still high at Villa Park and reveals that everyone involved at the club try their hardest to maintain a positive atmosphere.
"We always try to keep things upbeat and don't dwell too much on a loss but instread try and keep a level playing field. This way everyone can keep enjoying their football," he said.
"There is nothing worse than coming into a workplace which is negative and down; that's when you start to lose the players.
"The important thing is not to feel sorry for yourself. You have to stay positive."
For more insight from Paul Lambert and other leading managers plus exclusive Premier League highlights go to www.yahoo.co.uk/sport