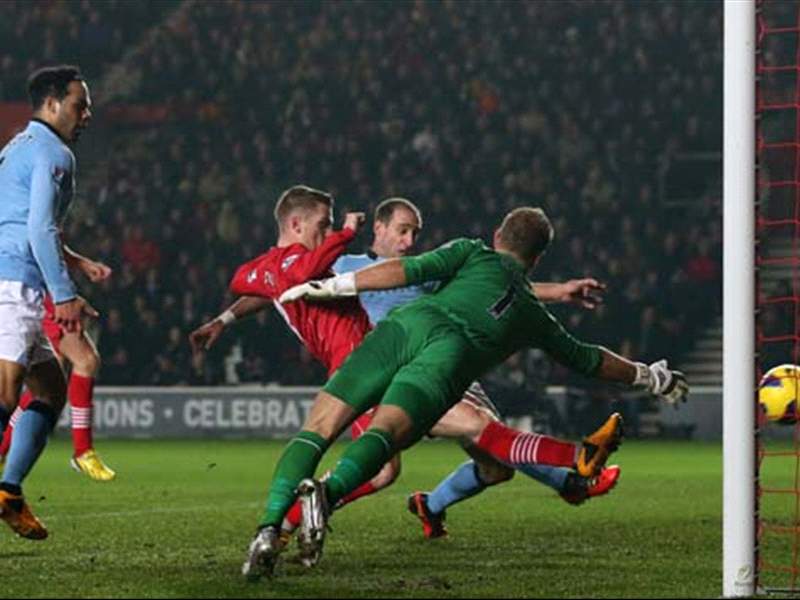 Former
Manchester City
goalkeeper Joe Corrigan has suggested that
Joe Hart
's rolled-up sleeves could be to blame for his costly error during Saturday's 3-1 defeat to
Southampton
at St Mary's.
The England international failed to hold a shot by Rickie Lambert and Steven Davis took advantage to double the Saints' early lead.
Corrigan believes that short sleeves make it more difficult for goalkeepers to hold a slippery ball as shots are more likely to slide or bounce off the exposed lower arm.
The 64-year-old told
BBC Radio 5 Live
: "Joe is a brilliant keeper, but what I cannot understand, and nobody has ever explained to me, is why with the ball being as shiny and moving so much, do goalkeeper wear short-sleeve shirts?
"They have these new rubber latex gloves at one end of their arm and then they have skin between there and the shirt, which creates another slippery surface.
"If you look at the [Southampton] goal from behind, it shows the ball hit Joe in the area which was not covered by the goalkeeping shirt, so situations like this will happen.
"It was a bad mistake, and while I am not putting that plainly down to the fact he rolled his sleeves up, I am just saying you need all the help you can get when you play in goal."
Corrigan, who was part of the City side that finished in second place in the top flight in the 1976-77 season, also claimed that the movement of modern footballs has made life more difficult for goalkeepers.
"A lot of them now cut the sleeves off and they end up with bare skin all the way up past their elbows," he continued.
"It is a lot harder [for a goalkeeper] now, because the ball they use today is so unpredictable. It moves so quickly, but so late - you can see the ball dip.
"When you see how many goals go in where the 'keeper's hands are nowhere near the ball and that is because it moves so late."
City's hopes of retaining the Premier League title took another blow in the defeat to Mauricio Pochettino's team but Corrigan predicted that Roberto Mancini's future would rest on his side's performance in the Champions League next season.
"The owners are reported to be very happy with Mancini, but as we all know you see strange decisions in football with regards to managers, you just don't know," Corrigan opined.
"I think the owners are very fair people, and if Manchester City qualify for the Champions League again next year, then a lot will depend on how they do in that next season if they do not win something this year."