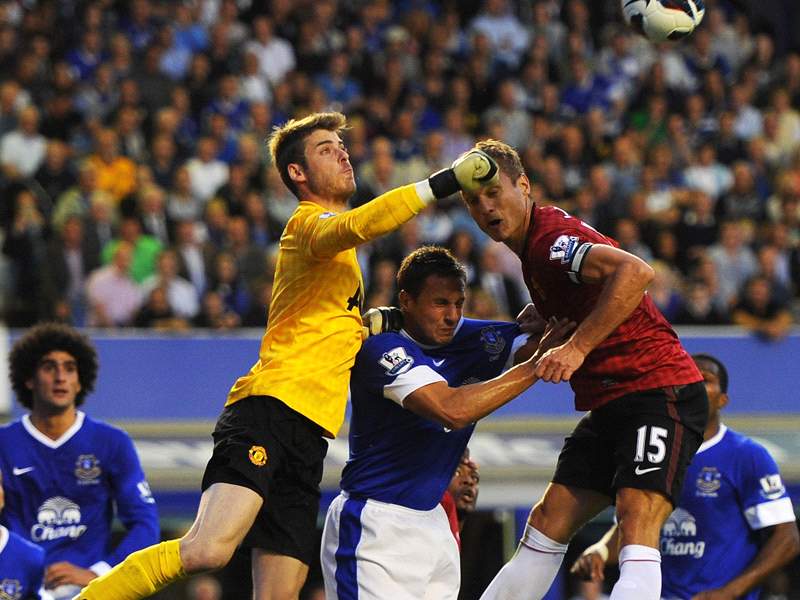 Phil Jagielka
has called on
Everton
to keep up their recent good form against
Manchester United
as they look to bolster their chances of a top-four finish.
David Moyes' side go into the match having picked up four points from their last two Premier League games against Manchester United, including a 1-0 win at Goodison Park on the opening weekend of the season.
But it will be Manchester United's bitter memories of last season's 4-4 draw with the Merseyside club which will inspire the current Premier League leaders to finish the job.
Jagielka told The Mirror: "Obviously Manchester United were not happy to have not won against us last season from the position they were in, and it had a major effect with them not winning the league.
"It was a big result for us in terms of the confidence it gave us.
"To go to Old Trafford and give such a performance, it gave us something to hold on to and carry into this season. When we got it back to 4-3 they seemed a little nervy, and you don't often see United nervy.
"We have belief from that. But then, we have a good bit of quality in our squad, and we should be hard to beat."
This fixture is always special for Wayne Rooney when his boyhood club and previous employers Everton travel to the home of his current team.
"Wayne still tries to support Everton as much as you can as someone still playing the game at a high level. Definitely he's still a Blue and still has affection for the club, but he won't be doing us any favours!" Jagielka explained.
Rooney has even warned the England and Everton defender that he will be expecting to make an impact when the two teams face each other on Sunday.
"Wayne says plenty, believe me," Jagielka revealed.
"He's always got plenty to say. When the game comes round he's throwing all sorts of banter at you, and there was a bit of banter flying around this week!
"Obviously, this being Wayne, he's expecting to score against us, and he made it clear he can't wait to play against me at the weekend.
"That's just Wayne, isn't it? He loves his football.
"I don't say much back - I just smirk at him, because the more you say to him the more you encourage him.
"Wayne is a fantastic player. I don't want to be winding him up and give him any more reason to try to play well and score than he has already.
"I try to keep myself pretty quiet when he's giving the banter, because this is Wayne Rooney we're talking about, and I've got a tough enough job myself to come without encouraging him!
"The final thing he said to me was, 'See you Sunday', but with a massive smirk on his face. So what more can you say?!"