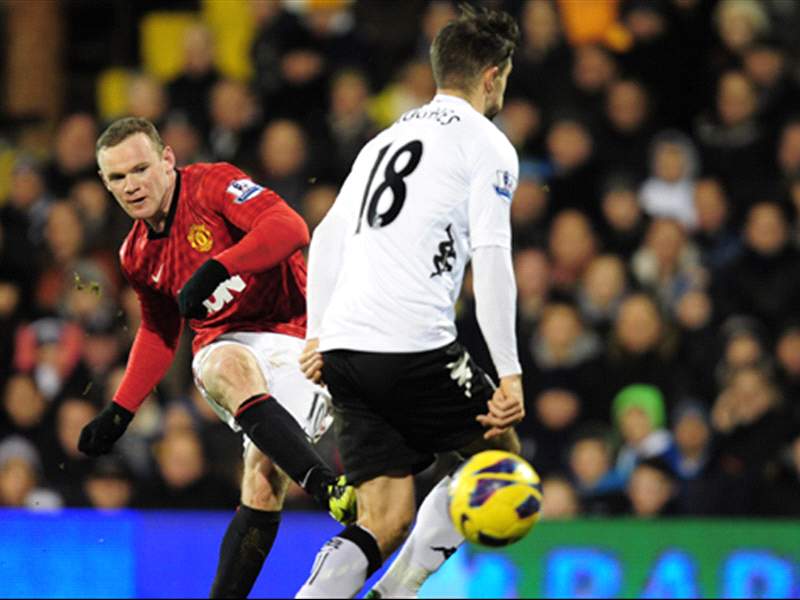 COMMENT
By Tom J Doyle at Craven Cottage
Picture the scene:
Manchester United
are struggling, they have survived an assault on their questionable back line more than once, time is running out - and up steps their talisman to guide them to a vital victory.
Except, that talisman against Fulham was not the new hero of Old Trafford, Robin van Persie, but in fact Wayne Rooney, whom some fans had deemed superfluous merely months ago.
While the brilliant Dutchman earned the chants of the away fans for long periods of the 1-0 victory at Craven Cottage, the 27-year-old reminded us all of his prodigious talents with a sumptuous finish around Aaron Hughes and into Mark Schwarzer's far corner to send his side 10 points clear of champions Manchester City.
ROONLIGHTING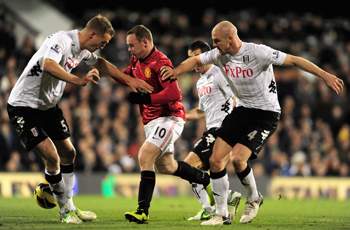 | | | |
| --- | --- | --- |
| | 79' | Breaks deadlock with curling finish |
PLAYER RATING




Almost opened the scoring twice, including hitting the post, but got caught up in a few too many battles. Provided the game's decisive moment with a great finish.
It is clear that perhaps save for Lionel Messi or Cristiano Ronaldo, most forward players in the world would have to accept playing second fiddle to Van Persie. This would be a struggle for bigger egos but Rooney has played intelligently to cement his place in spite of the challenge of Chicharito and Danny Welbeck.
Ten Premier League goals this season is not a bad return for a man supposedly out of form and fitness and it is the ninth campaign in a row in which he has hit double figures, highlighting his consistency for Sir Alex Ferguson's side.
It would be naive to assume that Rooney is a changed man. His fiery temper and impetuousness almost cost United against the Cottagers, as did his poor first-half finishing.
However, it is not that Rooney is a better player than Van Persie or is aiming to replace the mercurial striker; the reason why United will more than likely win the Premier League is that, despite Rooney's perceived woes this season, he was able to stand up and be counted as an individual regardless of earlier missed chances.
His wasteful first-half finishes could have persuaded a lesser striker to wait for help when bearing down on goal in the 79th minute, yet Rooney showed unnerving desire to finish past Schwarzer and give United a huge title boost.
Since December, the striker has scored two in the 4-3 win over Reading, a potentially vital double in the 3-2 away win over rivals Manchester City, a double in the 2-1 victory over Southampton and now the decider against Fulham.
While the rest of the league may rightfully fawn over Van Persie's gorgeous left foot, Rooney is hitting form at exactly the right time for the Premier League leaders.
It has not been plain sailing for Rooney whatsoever this year; accusations of weight gain and loss of form have dogged him and perhaps, for once, finally seeped into the stands of Old Trafford as Van Persie gave the fans gold-standard performances every week.
He has even admitted to handing over penalty-taking duties, such has been his lack of efficiency from the spot.
However, Rooney's recent form - and deft winner at Craven Cottage in particular - highlight the importance of a title-winning side needing to put personal glories aside and share the load in difficult games. As Roberto Mancini casts aside Mario Balotelli, each of United's forwards has had a role to play this year.
It would be foolish to describe Van Persie's recent form as a drought but if many teams' top strikers were not scoring, they would be struggling; not so with United. They certainly rode their luck at Craven Cottage, but Rooney proved just why the Netherlands striker elected to join a "team of champions".
The floodlights may have gone out at Craven Cottage for a brief while but Rooney showed he can still be a shining light for United in the quest to regain the Premier League title.
Follow Tom J Doyle on