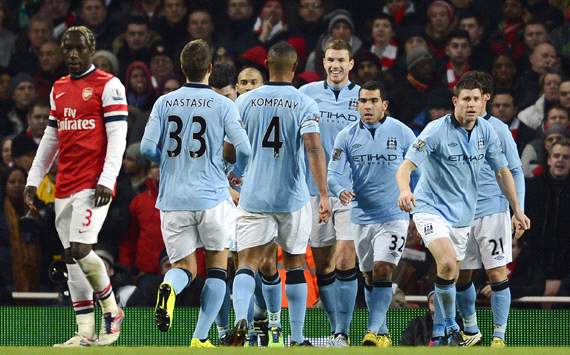 Manchester City defender Joleon Lescott was told by one of the match officials of side's 2-0 victory over Arsenal to thank the travelling supporters for paying the expensive ticket prices.

Much of the pre-match conversation centred on a selection of City fans who had boycotted their side's crucial clash against the Gunners after being quoted £62 by Arsenal to purchase tickets for seats behind one of the goals, a stance that has been backed by Premier League chairman Richard Scudamore.

Even the City fans who did make the journey to London voiced their discontent by holding up banners criticising both Arsenal and the football authorities as a whole for the perceived ever-increasing rise of prices of football tickets.

Indeed, it appears that linesman John Brooks had similar thoughts on the issue, after being heard appearing to tell Lescott after the final whistle: "They've paid £62 over there, go and see them."

The defending Premier League champions claimed their first victory at Arsenal since 1975 thanks to two first-half goals from James Milner and Edin Dzeko.