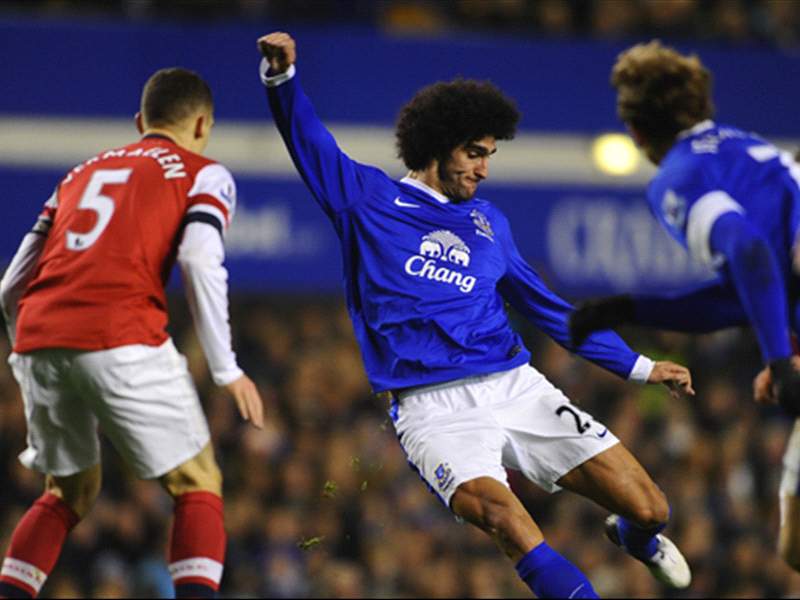 David Moyes
has implored Belgian star
Marouane Fellaini
to emulate Lionel Messi and keep his cool on the pitch ahead of his return to action against
Newcastle
.
The Belgian is set to take his place in the Toffees line-up for their trip to St James' Park after completing a three-match ban he served for headbutting Stoke's Ryan Shawcross in the 1-1 draw between the two sides at the Britannia Stadium.
Moyes was naturally disappointed to lose the talismanic midfielder to suspension, and believes Fellaini must change his attitude if he is to avoid similar punishment in the future.
He told
The Daily Star
: "The best person you have to look at is Lionel Messi. Every person targets him, they'll do everything.
"But all he ever does is get up and get on with it. That's the sign of a top player. It says to people, 'Whatever you do, it doesn't affect me'.
"I tell Felli that you just have to get on with it. If I was playing against Felli, I'd try and wind him up."
The 25-year-old Fellaini has been in excellent form for the Merseysiders this term, scoring eight times in 19 games, but he was quick to admit that his decision to strike Shawcross was regretable.
He said: "My headbutt on Ryan Shawcross was frustration, as he had spent the entire game pulling and pushing me, but I shouldn't have butted him. I exploded and I am sorry for doing so."