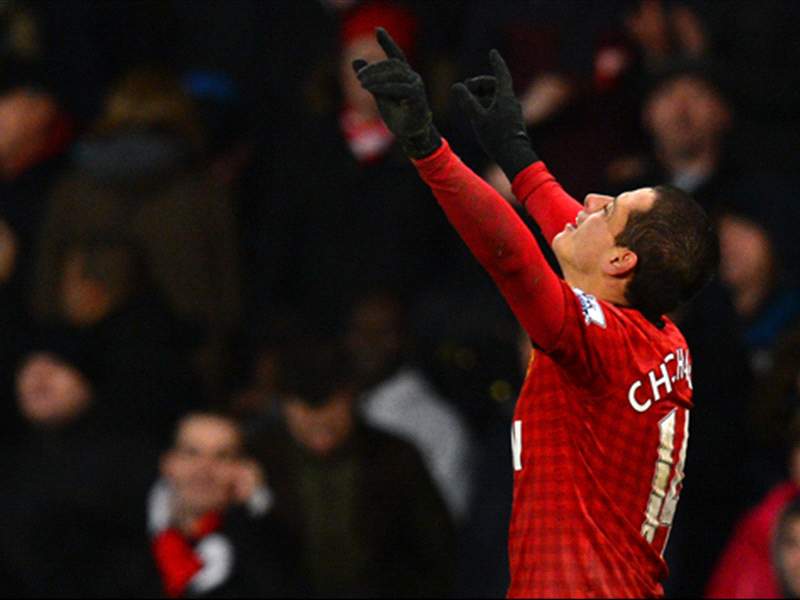 Manchester United
forward
Chicharito
is hoping to force his way into a regular role at Old Trafford after his last-ditch winner against
Newcastle
.
The Mexican netted in the final minute to give the Old Trafford side a massive victory on Boxing Day which, with rivals Manchester City losing to Sunderland, puts them seven points clear at the top of the table.
The 24-year-old was granted a first-team role with both Wayne Rooney (knee) and Danny Welbeck (illness) unavailable, but the match was only his fourth start in the league this season, with the striker not yet reaching 20 league starts in a full term.
The former Chivas Guadalajara man acknowledges that Sir Alex Ferguson has other high-quality options to select but is determined to prove his worth and eventually become a regular choice.
"Ask any player in the world and they will tell you they want to play every game," he told reporters.
"But the competition here is incredible. It is the biggest club in the world. You need to be aware there are five strikers who want to be part of the games.
"I have to prove, in one minute or 90, that I want to start."
Though he did net the eventual winner late in the game, Hernandez wasted two golden opportunities to, possibly, seal the vital three points earlier in the day.
However, the Mexican insisted that he never dwells on missed chances in order to stay focused for the next one, while stating the most important thing was that they secured victory in the end.
"I didn't have those things in my mind," he added. "You cannot afford to regret every chance you miss because if you do you will never be concentrated for the next opportunity.
"You are never going to play the perfect game. You will never score five goals from five opportunities. That is the beauty of football. The most important thing was the win because here there are no heroes.
"It doesn't matter if I score in the last minute or we score four goals. We won and Manchester City lost. That is very good news."