EXCLUSIVE
By
Wayne Veysey
| Chief Correspondent
Pep Guardiola
has told
Arsenal
that they are top of his Premier League wishlist,
Goal.com
can reveal.
Representatives of the former Barcelona manager have let it be known to the north London club that he would be very keen to be considered for the manager's job if it was to become available next year.
Guardiola, who is on a year's sabbatical in New York, is in the frame for leading posts in England, as well as Continental giants like AC Milan, Inter Milan, Bayern Munich and Paris Saint-Germain.
'ARSENAL HAVE NO PLANS TO SACK WENGER'

Arsenal have no plans to sack Arsene Wenger. Or, indeed, discuss the possibility of the all-powerful Frenchman being replaced mid-season.
That is out of the question for a board who hold the manager in such high esteem for the glory years and then nursing the club through the move to Emirates Stadium that drained their finances.
The embarrassing defeat to League Two minnows Bradford City will hurt supporters far more than the club's majority owner 'Silent Stan' Kroenke, whose radar is unlikely to have been interfered by the Capital One Cup.
For the Arsenal directors, it is all about finishing in the top four and retaining their place aboard the Champions League gravy train.
Rightly or wrongly, Wenger will have a big say in his departure date. If he feels his methods are no longer working, there is a growing feeling he will walk away.
Arsenal's decline has been evident for two or three years. Wenger's youth project failed and the collateral damage has been all the star players jumping off the sinking ship.
Mistakes are rife; the inefficient £143 million wage bill; the funds that have been left stubbornly in the bank; the 'jobs for the boys' ethos; the lack of boardroom direction.
From the outside, it looks like a mess.
Wayne Veysey | Chief Correspondent

Sources have told Goal.com that Guardiola's Premier League preference is to take the reins at Arsenal, ahead of Chelsea, Manchester City and Manchester United.
The Spaniard, who guided Barcelona to 14 trophies including two Champions League crowns and three La Liga titles during a dazzlingly successful four-year tenure, is expected to begin sifting through offers early in 2013.
Arsenal manager Arsene Wenger is under more pressure than at any point since taking over in October 1996.
The club are within two points of fourth place in the Premier League but have not won a trophy for seven years and one of their best chances of ending that run ended with the catastrophic Capital One Cup defeat to League Two minnows Bradford City on Tuesday night.
"Guardiola's preference in England is Arsenal," a source told Goal.com. "The club are aware he would be interested in the job in 2013.
"Guardiola doesn't want to go to Chelsea. He is worried about the lack of stability. He also has a good relationship with Wenger dating back to when he started doing his coaching badges at Arsenal."
Chelsea owner Roman Abramovich has sounded out the 41-year-old on a number of occasions but Guardiola has strong reservations about taking a job where the manager's position is so insecure.
Ex-Barcelona chiefs Ferran Soriano and Txiki Begiristain are on the board at Manchester City, where Roberto Mancini's position is in doubt in the medium and long-term, while Sir Alex Ferguson turns 71 on December 31 and has already begun considering his legacy at Manchester United.
Of the English elite who could be searching for a new manager, Arsenal have the history, prestige and stability that only United can beat and there is a strong possibility that Wenger's reign could come to an end next summer.
Goal.com revealed last week that the Frenchman has put contract talks on the backburner until the end of the season.
The manager's current deal runs until June 2014 and Wenger has been informally approached by the board to arrange a time to open discussions over a new deal.
But it is understood that Wenger has no intention of discussing an extension during the season and that he will assess his future at the end of the current campaign. "There will be no talks before then," the source added.
It is expected that the tipping point in the decision of the most successful manager in Arsenal's history will be whether he records a 17th consecutive top-four finish.
This fits in with the Frenchman's own public comments in the wake of the recent 2-0 defeat against Swansea, which prompted the Frenchman to turn his anger on his own players.
THE VIEW FROM SPAIN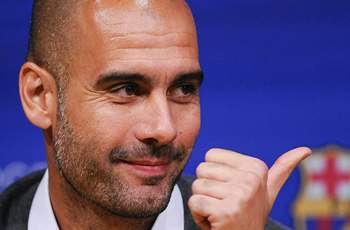 'PEP RESPECTS ARSENAL'S STYLE'

Pep Guardiola will probably end up in the Premier League in the summer.

Would Arsenal be a good choice? It seems so. The north London side his displayed immense patience with Wenger despite not having won a league title since 2004, while the club value flair at the same level than silverware, and Pep definitely respects that.

Guardiola would never go behind Wenger's back to land the job, so any approach from either side must be done with the Frenchman fully aware of the circumstances.


Martin Langer | Goal.com Spain
Wenger stuck to his oft-stated line of honouring his contracts, while at the same time reiterating his confidence about his ability to drive the club forward.
"If you ask me always about my future, I can only give you one answer," he said. "I always respected my contracts, and that is it."
The Arsenal board, led by majority owner Stan Kroenke and chief executive Ivan Gazidis, retain complete faith in Wenger and put far greater store in his record of top-four finishes and success in navigating the group stages of the Champions League than current form.
If Arsenal fail to attain a Champions League place this season, there is a strong possibility that Wenger will conclude he has failed to achieve his primary objective and agree an amicable exit strategy with the club.
Such is Wenger's elevated status at Emirates Stadium that he has a far greater say in his destiny than any English-based boss, bar perhaps Ferguson.
Wenger is also expected to have a considerable say in who his successor will be.
The two men the Frenchman is most likely to recommend are believed to be Guardiola and Dragan Stojkovic.
The former Yugoslavia captain played for Wenger when he was in charge at Nagoya Grampus Eight in the mid-1990s and has followed in his mentor's shoes by managing the Japanese club since 2008.
In an interview last year, Wenger said: "I would love Stojkovic to be my successor, there are a hundred reasons for that.
"Our ideas are the same and we both strive for perfect football. I knew he was going to have teams playing attacking football with many passes."
Follow Wayne Veysey on