Roberto Mancini
says that he may try to bolster his
Manchester City
squad in the January transfer window in a bid to retain their
Premier League
title after crashing out of Europe once again.
The league champions are three points behind rivals Manchester United going into Sunday's derby but finished bottom of a Champions League group which included Real Madrid, Borussia Dortmund and Ajax, failing to record a single victory.
And while the 48-year-old accepts that it is "difficult" to improve the team at this point, he suggested the presence of new director of football Txiki Begiristain and chief executive Ferran Soriano will help the club to "move quickly" for targets.
"In January it's difficult to find the players to improve our team a lot. We have the support from our chairman always and maybe we will talk about it but it's difficult to change the team in January," he told reporters.
THE DOSSIER ON THE DERBY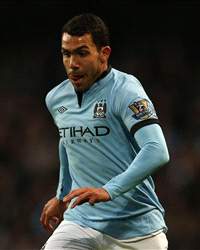 Goal.com's Greg Stobart analyses where the game will be won and lost as Manchester City host Manchester United at the Etihad Stadium


Mancini has expressed his frustration at missing out on transfers in the past, laying the blame at the previous chief executive Brian Marwood, but now feels that the club are in a position to acquire their targets.
"I think that now we have people who know the market and can move quickly," the Italian observed. "Also in the past - three years ago we did well. But sometimes you have to work harder and more quickly than other teams."
The appointment of the former Barcelona duo has raised the possibility of Manchester City's owners making an approach for Pep Guardiola at some point but Mancini laughed off the suggestions when asked if he had a good relationship with Berigistain, saying: "Yes, him, me and Guardiola ... I'm joking.
"He's a good guy and he knows the market very well and we have the same ideas about football."
And although some fans and pundits have questioned whether Mancini will be given another chance to win the Champions League for City after falling at the group stage twice, he is only looking ahead to the future.
"I'm disappointed about Europe but we can't cry about this," he continued. "I'm disappointed not for me as a manager but I'm sorry for the club, the owner and the supporters, for them.
"Now we can't do anything more to improve this and I'm sure that we'll do better next year. I understand because we went out of the Champions League and we made some mistakes and I accept all the criticism.
"But I think in two years we did a good job because we won three trophies in two years and for us that is important and we have the chance to win more trophies this year. I think in the last two years not many managers won three trophies."