EXCLUSIVE

By
Wayne Veysey
| Chief Correspondent
Thomas Vermaelen, Gervinho and Carl Jenkinson were singled out for criticism by Arsene Wenger in a furious dressing room tirade following Arsenal's 2-0 defeat on Saturday, Goal.com can reveal.
The Frenchman rounded on his team following the late capitulation to Swansea City, which left the Gunners 10th in the Premier League and with their lowest points haul at this stage of the season in the boss' 16-year reign.
In a rare post-match attack, Wenger tore into the players and pointed the finger at club captain Vermaelen, Gervinho and Jenkinson in front of the rest of the squad.
Goal.com understands that the manager's main complaint was that the trio had not taken responsibility against Michael Laudrup's team.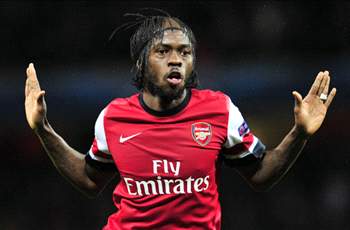 Wenger felt that he had been let down by Gervinho, who was substituted after 68 following a tepid display

Wenger was said to have "lost it" with Vermaelen and Jenkinson for their parts in Swansea's second goal, scored by Michu on the counterattack after the skipper had bombed forward in search of an equaliser and the right-back had lost possession high up the pitch.
The Arsenal boss also felt that he had been let down by Gervinho, who was given the nod to start as the team's spearhead ahead of Olivier Giroud. The Ivory Coast international was substituted after 68 minutes following a tepid display in which Wenger felt that he had taken the easy option of passing sideways too often rather than try to make things happen.
The criticisms, which were aired in the dressing room in the immediate wake of the loss, are believed to have been accepted by the players, who stood quietly and listened to their manager.
Wenger chooses his words carefully after matches and rarely lays into his players, for fear of denting their confidence, but felt that he was left with little option following a dreadful display that was greeted with jeers by home supporters.
Arsenal's 15 league games have yielded just 21 points, which leaves them 15 behind leaders Manchester United - although only five behind Tottenham in fourth place, a more realistic target for the season.
Wenger has admitted that the team has lost some goodwill from supporters, remarking after the game: "You look at the moment at this uncertainty among the fans. There is not complete confidence that we will win games.
"Has it an influence on our performance? I don't know – we have to look at the solution from inside and not expect too much from the outside. I can't deny today that the quality was not there."
The Arsenal boss will ring the changes for the Champions League dead rubber against Olympiakos on Tuesday as he prepares to rest his leading players ahead of Saturday's home match against West Brom.
Wenger had originally planned to take a mixture of regulars and fringe players on the plane that heads to Greece on Monday but it is understood that he will use predominantly junior and out-of-favour squad members in the last of Arsenal's Champions League group matches to allow the regulars a full week's preparation for the West Brom game.
Vermaelen is set to lead the team in Greece despite starting 18 of Arsenal's 20 Premier League and Champions League matches this season. Jenkinson and Gervinho are also expected to be named in Wenger's 18-man squad.