SPECIAL REPORT
By
Wayne Veysey
| Chief Correspondent
Arsenal were on the trail of a new goalkeeper even before the inconsistent displays of Wojciech Szczesny and his understudies this season.
In the summer, Goal.com understands that the Gunners closely pursued Hugo Lloris and Julio Cesar but dropped out of the running before they were snapped up by London rivals Tottenham and QPR.
With the new window to open in 33 days' time, Arsenal are ready to step up their search for a keeper who can provide far greater competition to current No.1 Szczesny.
The requirements are broadly similar to those identified by Arsene Wenger and his staff in the summer: experience and pedigree in top-level competition.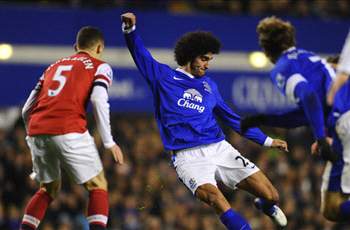 Szczesny's footwork has made him vulnerable, a problem that was highlighted against Everton
Broken down, Arsenal want a keeper with sound technique who has the authority to command the penalty box and, crucially, has the distribution skills to fit in with their intricate passing game.
Wenger and his recruitment team have added one crucial caveat to their hunt: battle-hardened experience in the Premier League.
As revealed by Goal.com on Wednesday, Arsenal have now compiled a three-man shortlist of keepers currently employed in the English top tier – Liverpool's Pepe Reina, Swansea City's Michel Vorm and Thomas Sorensen of Stoke City.
The plan is that the newcomer will replace – or compete with – Szczesny.
Arsenal hold the Pole, who joined the club's youth set-up in 2006, in high regard but there is a strong belief that he needs competition, and perhaps some time away from the spotlight, to develop and realise his great potential.
Szczesny demonstrated rare authority for such a young goalkeeper when he broke into the Arsenal team in the second half of the 2010/11 season. His composure, athleticism and confidence, which often veered into the territory of cockiness, made him a huge favourite of supporters who had watched Manuel Almunia and Lukasz Fabianski fail so miserably to step into the boots of Jens Lehmann.
But the 22-year-old's form has been more fitful in 2012, and a series of niggling injuries have interrupted his progress, most notably a seemingly minor ankle problem that kept him out for two months.
Although Wenger has publicly confirmed Szczesny's No.1 status and he has reclaimed his place in goal in the last four games, behind the scenes there is activity which is expected to culminate in a reshuffle of the Arsenal keeping pecking order.
However, there are no plans to sell Szczesny. He is part of the long-term picture. But his weaknesses are enough for him to be demoted in the first-team set-up in the short and medium term.
One of the main problems is his erratic distribution and kicking, so important to a team where the keeper plays a key role in the build-up.
Moreover, Arsenal's staff have noted a technical deficiency in Szczesny's game. His footwork has made him vulnerable when dealing with long-range shots, a long-term problem that was highlighted again on Wednesday night with Marouane Fellaini's equalising goal in the 1-1 draw at Everton.
Since the break-up of the 'Invincibles', Arsenal have put their faith almost entirely in keepers unproven outside the gates of the club's London Colney headquarters.
That is about to change. Szczesny's understudy Lukasz Fabianski is out until February after rupturing his ankle ligaments in training last month and is almost certain to be off-loaded next summer, when his contract expires.
In the absence of Szczesny and Fabianski, No.3 Vito Mannone had an extended spell in goal but the Italian made a number of costly errors and did little to convince the staff that he is ready for a major role.
After putting so much faith in young keepers who could develop under the tutelage of goalkeeping coach Gerry Peyton at London Colney, Arsenal are finally ready to change tack and invest in proven quality.
Wenger's admiration of Reina is nothing new. He tried to sign the Spaniard in the summer of 2010 on the back of his best season at Liverpool to date but the deal fell through.
Now the Arsenal boss is keen to try again, even though Reina's own form has dipped over the last 12 months and he temporarily lost his starting place to Brad Jones after injuring his hamstring.
Although the 30-year-old is contracted to Liverpool until 2016, his price will be around half of the £20 million valuation of two years ago and Arsenal may be able to persuade him that a new challenge could rehabilitate a career that has stalled in recent times.
Vorm, so impressive in the Swansea goal since moving from the Dutch league 15 months ago, is also a strong contender in Arsenal's search. He ticks all the boxes in terms of age, Premier League experience, agility and authority.
Reina and Vorm are both regarded as keepers who would go straight into the first X1. Sorensen, the third man on Arsenal's shortlist, is currently understudy to Asmir Begovic at the Britannia Stadium but the 36-year-old Dane would provide some experienced back-up and know-how to Szczesny and company.
Follow Wayne Veysey on