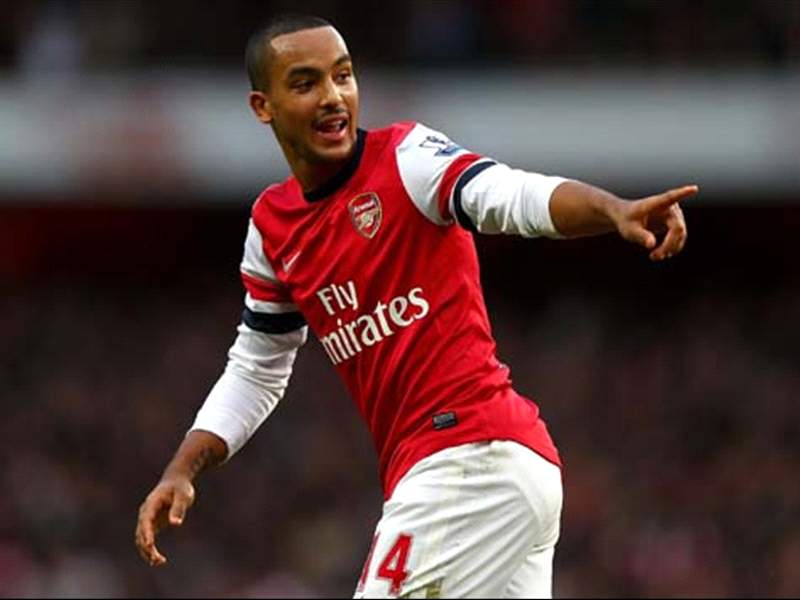 EXCLUSIVE
By
Wayne Veysey
| Chief Correspondent
Theo Walcott
has moved a step closer to signing a new
Arsenal
contract following a breakthrough in talks,
Goal.com
has learned.
Walcott told the club when negotiations re-commenced in late October that he is willing to lower his salary demands to £90,000-a-week to remain at Emirates Stadium.
In turn, Arsenal indicated they will increase their contract offer from £75,000-a-week to £80,000-a-week and Arsene Wenger has told the in-form forward he will get opportunities to play as a centre-forward.
The shift in stance from the two parties is the firmest indication yet that Walcott will sign a new five-year deal.
A third round of talks will take place in the near future, although no date is scheduled, with both Arsenal and Walcott's camp hopeful that it will result in the player committing the prime years of his career to the club.
As Goal.com revealed at the end of last month, a final round of talks had been scheduled to end the contract stand-off.
Wenger has remained tight-lipped about the situation, merely saying that the club "have until the end of December to sort this out".
Contrary to reports, it is understood that the second round of talks have already taken place, after the England international failed to reach an agreement with the club at the end of August.
Although a resolution is still to be reached, the tone of discussions has given encouragement that Walcott is not set to follow the likes of Robin van Persie, Alex Song, Samir Nasri and Cesc Fabregas out of the Emirates Stadium exit door.
Arsenal would lose Walcott for nothing in the summer if he does not agree new terms, as his contract expires at the end of the season.
Should a resolution not be reached when the 23-year-old comes back to the negotiating table with the club he joined from Southampton in 2006, it is believed that Wenger would rather offload Walcott abroad than to a Premier League rival.
Juventus have registered their interest in the wide forward, while Liverpool, who regard Walcott as a possible answer to their dearth of attacking options, and Manchester City are continuing to monitor developments.
Walcott has been locked in contract negotiations with Arsenal since the back end of last season and had been hoping for a significant upgrade on his current £60,000-a-week deal, which has just eight months to run.
Goal.com revealed back in April that the 23-year-old had been holding out for a £100,000-a-week salary that would now make him the club's highest earner.
Although Arsenal have made it clear they will not be held to ransom by the player, the club's willingness to increase their package for Walcott from £75,000-a-week to £80,000-a-week demonstrates a desire to keep the player.
Crucially, sources have said that Wenger is willing to partially accommodate Walcott's desire for the centre-forward role that he has been denied in his six-and-a-half years at the club.
"It is a case of having trust in me up front," said Walcott in September. "I was signed as a striker and it is about time, I want to play up front. I have learnt my game on the wing. When you look at what I did last year I think I can do even more. Hopefully I will be given the opportunity. I am desperate for it."
However, Walcott's camp are mindful that Wenger has told the player every season that he will get chances to play the central role he craves, and it has not happened.
Due to injury and the contract stand-off, Walcott has started only six of his 15 Arsenal games this season, but injuries to Gervinho and Alex Oxlade-Chamberlain have forced Wenger to turn to the England international in the last fortnight and he has responded in some style.
The 23-year-old, whose 11-goal haul was bettered only by Van Persie last season, leads Arsenal's scoring charts with nine in all competitions this term.