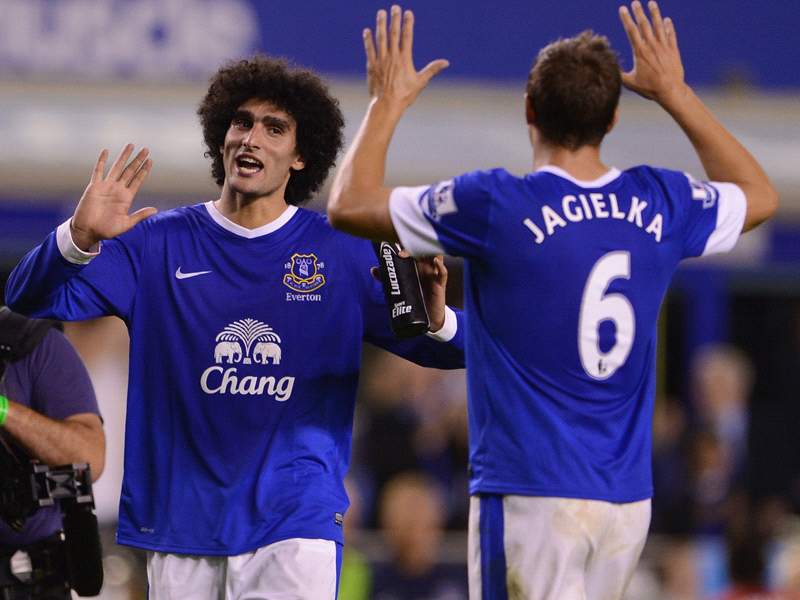 Phil Jagielka
has hit back at
Steven Gerrard
's criticism of
Everton
's style of play during the
2-2 draw
with
Liverpool
on Sunday, saying
Brendan Rodgers
' side "pass around for half an hour for the sake of it".
Luis Suarez was controversially denied a late winner in the fiery Merseyside derby after wrongly being flagged offside - and an angry Gerrard was critical of Everton's tactics claiming: "There was one team here who came to play football and win the game and that was us."
However, Jagielka suggests David Moyes' side are simply using the strengths of their forward players in the air, and laughed off Gerrard's attack by suggesting Liverpool's tactics are less efficient than his team's.
"If Stevie says we are a long-ball team, then I'm not going to deny the fact," he told reporters.
"But do we play them for the full 90 minutes? No. When you have someone like Marouane Fellaini who can bring the ball down for fun and we start creating things from there, why wouldn't you do that?
"We don't believe in passing it around for half an hour for the sake of it. We won't start to look to put in a thousand passes a game. If we need to play forward to [Fellaini] to create chances, or to Nikica Jelavic or to Victor Anichebe, then guess what? That's what we'll do."
Jagielka believes the fact Gerrard is speaking about Everton proves his side have got the red half of Merseyside worried: "I suppose you could say it's a back-handed compliment. Stevie must have thought that Liverpool were in a game to come out with such comment.
"It does make you chuckle, but if Stevie is saying things like that, there must be a reason behind it - that must be that we are doing something well.
"It's a little bit disrespectful to players like Baines, Ossie [Osman] and Kevin [Mirallas] who are players who do create a lot of chances for us.
"This season is the most goals we have scored, the most chances we have created, and in the derby we had more possession and more chances. That's why we can take it with a pinch of salt."