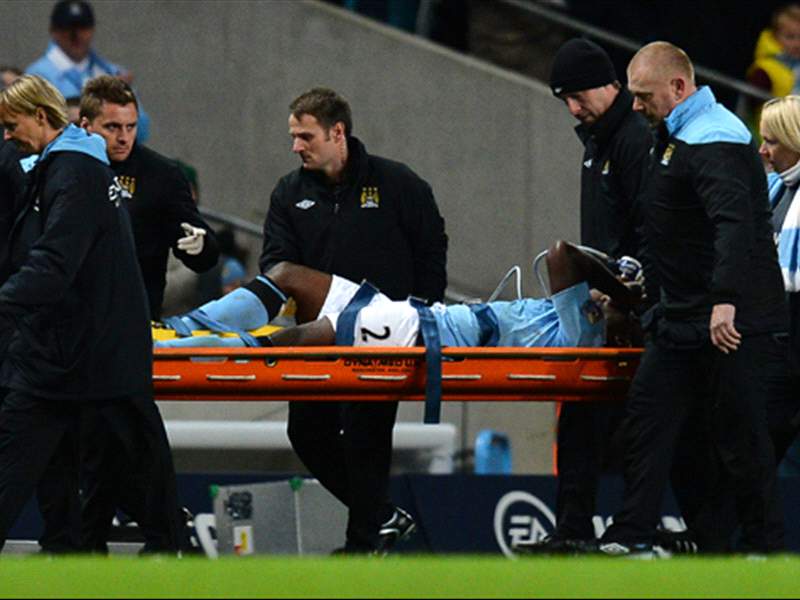 By Jonathan Birchall
Manchester City
defender
Micah Richards
will be sidelined for four months after undergoing a knee operation.
The right-back was stretchered off during the Premier League champions' 1-0 defeat of Swansea City on Saturday after tearing the meniscus cartilage in his right knee, and will now be out of action until the end of February 2013.
"The positive thing is that the injury has been repaired so the knee will be as good as new," Richards told the club's official website.
"I have a brace on it and I am using crutches. I can't do anything at all for the next four to six weeks and I am probably looking at 12-16 weeks before I am back in action.
"I knew straight away in the game that it was quite a bad injury. The knee locked and I couldn't straighten it.
"I suppose it could have been even worse and not repairable which would have meant removing the meniscus; so I am being positive. Injuries are all part and parcel of the job but this coming on top of the other one I do feel a little hard done to.
"I will be working as hard as I can to get back as quickly as I can and I thank all the fans who have sent their best wishes."
In the wake of Richards' injury, Roberto Mancini will be boosted after learning that Pablo Zabaleta set to return to City's squad ahead of Saturday's visit to West Ham.
The Argentine's return will ease the right-back crisis faced by City, with summer signing Maicon 10 days behind Zabaleta in his recovery from a recurring hamstring problem.