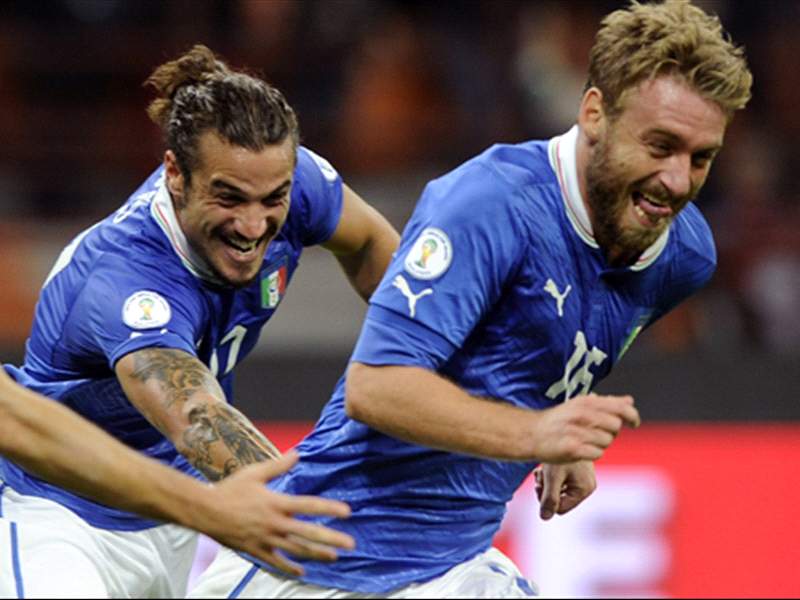 SPECIAL REPORT

By
Wayne Veysey
| Chief Correspondent
Roma
's team selection for Sunday evening's trip to
Genoa
will not just be of interest to the club's supporters and those who follow Serie A football.
It will also be closely monitored in Manchester as the possibility emerges that the previously unattainable could finally be within reach.
Daniele De Rossi, Rome icon and Italy midfield kingpin, faces a potentially make-or-break moment in his 11 years in the first team as he waits to hear if he has made the final cut for the starting XI against Genoa.
The weekend before the international break, he suffered the rare experience of being dropped for Roma's match against Atalanta at the Stadio Olimpico.
In what some might regard as a flexing of manager Zdenek Zeman's muscles, De Rossi was told only in the warm-ups shortly before kick-off that he would be joining fellow high-profile casualties Pablo Osvaldo and Nicolas Burdisso on the substitutes' bench. Zeman's brave selection was immediately justified, as Roma recorded a 2-0 win, their first home victory of the season.
Cue a wave of speculation that the relationship between veteran coach and star player, known to many of the fans as 'Capitan Futuro', or Roma's Future Captain, is not a good one and is on the verge of a breakdown that could become permanent when the transfer window re-opens.
Admiration for De Rossi stretches far and wide, not least to Manchester, where Roberto Mancini has made no secret of his desire to shoehorn the 29-year-old into a City midfield already brimming with expensive adornments.
Mancini tried to sign De Rossi in January. The player responded by signing a new five-and-a-half year contract. Mancini tried again to capture De Rossi late in the summer window, with City indicating their willingness to pay £31 million for one of Serie A's marquee players. This time, De Rossi responded by holding a press conference confirming his commitment to the club for whom he is now representing for the 12th season.
Despite buying Javi Garcia to fill City's central midfield hole in the last hours of the recent window, speculation is rife that Mancini will try to be third time lucky in January.
The disagreement between De Rossi and Zeman is partly personal, partly tactical.
"I was hoping [Vincenzo] Montella would get the job," De Rossi had said shortly after Zeman's appointment was confirmed in June, though he would subsequently claim to have been won over by the chain-smoking 65-year-old.
"I thought he was a miser, but instead I discovered a brilliant man, full of verve and good humour".
Despite this, there is a distance in their relationship that is a far cry from the warmth that existed between De Rossi and Zeman's immediate predecessor, Luis Enrique.
There was said to have been a heated conversation in the dressing room following the Juventus defeat, in which the pair exchanged strong words.
Not least is De Rossi's unhappiness with his role in the team, forced to play on the right of a midfield three instead of his usual central position.
When Zeman was interviewed for the Roma job, he told senior club officials he wanted two players in particular: midfielder Panagiotis Tachtsidis and centre-forward Mattia Destro.
De Rossi would not have imagined that the arrival of Tachtsidis and Michael Bradley, from the United States, would have left him marginalised.
"Zeman and De Rossi disagree about where he plays," a high-level Roma source told
Goal.com
. "De Rossi wants to play in the middle of the three midfielders. Zeman prefers Tachtsidis or Bradley there. There is an issue of trust. Zeman has to convince De Rossi that his methods are right and that they can help the team win."
Could Zeman be willing to offload a player whose bond with the eternal city is similar that of Steven Gerrard, a player he rates so highly, and Liverpool?
As previously revealed by Goal.com,
De Rossi's daughter has recently begun attending an English-speaking school on the outskirts of the city
, although club insiders deny the player is laying the foundations for a move to England.
Even though the midfielder turned 29 in July, he would come at a considerable cost. Roma value him at £30m, a fee that only a small elite could afford.
Moreover, De Rossi is the third best paid player in Serie A, earning a basic €6m-a-year (£4.9m) plus bonuses, more even that Francesco Totti. Only Inter's Wesley Sneijder and Juventus goalkeeper Gianluigi Buffon earn higher salaries.
De Rossi's stock remains high. He started both of Italy's World Cup qualifiers during the international break, scoring in each of the 3-1 victories over Denmark and Armenia.
The expectation is that, having made his point, Zeman will restore De Rossi to the Roma team this weekend. If not, the reverberations will spread at least as far as Manchester.
Follow Wayne Veysey on