COMMENT
By Jay Jaffa
There was a time when
Tottenham fans
would glance at the line-up, spot
Jermain Defoe
as the lone frontman and grimace, yet after a goal at
Newcastle
and a match-winning double against
Reading
on Sunday, maybe it is time to reassess such a long-held fear.
Many expected Defoe to be cut loose by Andre Villas-Boas after he replaced Harry Redknapp in the summer, and indeed, the 29-year-old was widely touted for a move across London to QPR.
Looking from the outside and knowing enough to assert that Villas-Boas would bring his famed 4-3-3 formation to White Hart Lane, it was presumed Defoe would be surplus to requirements and moved on from the club where he has spent the last eight years.
Defoe's role at Tottenham has never truly been defined. He has played for numerous managers, in varying systems, all the while existing while those around him were bought and sold in an attempt to find a workable frontline. The impression lingered that he was never viewed as a dependable No.9 for Spurs.
AT THE DOUBLE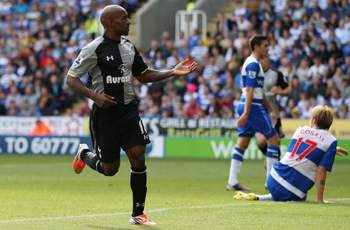 HOW DEFOE RATED VS READING






A sterling performance from the England man, who again proved his finishing capabilities. He popped up in typical style for the first goal with a neat first-time finish and should have had a brilliant second soon after, but spooned his finish after an exquisite touch. Nearly turned provider when setting-up Sigurdsson, who somehow did not score, but grabbed his second in the second-half with a superb run and finish.
However, to write off a striker who had scored 195 career goals prior to his three in this campaign and 17 for England would be nonsensical.
One of his greatest strengths has been his ability to reinvent himself and, as the idea grows that the traditional goal-poaching striker no longer fits the majority of modern systems, Defoe has shown that he is able to move with the times.
Far from his younger days as a striker looking to work off the shoulder of the last defender, Defoe actively worked on his hold-up play and although he is not the giant target man usually associated with the lone striker role, he has shown himself capable of receiving the ball with his back to goal and bringing others into play.
Combine that with a dedicated attitude – he does not drink or smoke and has set aside entire summers to arriving in pre-season as fit as he could be – and in many ways, he is the model professional. Put it all together and you have a footballer constantly seeking to eke the maximum from his talents.
So why have his fortunes changed? Almost predictably, it is down to 'the system'. Redknapp almost universally deployed Emmanuel Adebayor as his frontman last season, guided by the belief that Defoe was only useful in a 'two'.
But where Redknapp's system strictly utilised the pace and width Gareth Bale and Aaron Lennon provided as traditional wingers, Villas-Boas' is more complex. The Portuguese boss still deploys the same personnel but the key is getting as many of his attackers in and around the box, rather than having them canter to the byeline and whip crosses in.
Bale, for example, only set off on a trademark run down the left once all game. Most of his good work came from inverted runs to the centre – as seen by the diversion he created in the build-up to the third goal against Reading.
Meanwhile, as Sandro and Mousa Dembele kept possession ticking over in deeper areas, Gylfi Sigurdsson regularly provided support to the front three and particularly the central striker. This caused Brian McDermott's side plenty of problems but importantly meant Defoe was rarely isolated in the build-up.
Where it was common last season to see Adebayor hold onto the ball and move it to the flanks, it is more likely that he and Defoe will be far more involved in the intricate build-up around the box. But with Defoe currently in something of a purple patch, do not expect to see Adebayor start the next few games.
It is normal to refer back to Villas-Boas' Porto team when assessing his methods and although he had Radamel Falcao – now recognised as one of the best strikers in the game – front-lining the all-conquering 2010-11 side, Defoe's traits are not dissimilar. He does not have the strength of Falcao but he is a clinical finisher, can travel with the ball and has lively movement.
Yet, is he intelligent with that movement? A common criticism pegs Defoe as a hit-and-hope, brainless striker – regularly emphasised by the number of offside decisions given against him (zero against Reading, if you were wondering). But could it be that he just did not have a plan to stick to? A framework, or a set of instructions?
Villas-Boas, the 'Powerpoint' manager Redknapp so obviously, and disingenuously, took a swipe at in an interview with
The
Times
, is renowned for his complicated and highly detailed ideas. The Burnley chairman testified to this theory last week, suggesting Villas-Boas talked himself out of a job in 2009 due to the complexity of his presentation.
But he is working with top-class footballers now - just as he was at Porto and just as he was at Chelsea. The difference here is the Tottenham squad know they have the ability in the dressing room to win trophies – there is a thirst for success. And that is not restricted to just the younger members of the squad.
Defoe said in the aftermath of the win at Reading: "I've always said that when you're playing with quality players it's not a problem [playing alone] because they get close to me.
"Today we had a lot of the ball, so it's just a case of being clever and making sure your movement is good, and I did that today."
The key is 'closeness'. With Bale, Lennon, Sigurdsson and Dembele providing constant support, Defoe has options – he can not be smothered by defenders because they will be too preoccupied by runners from deep and from wide.
The challenge for Defoe will be to hit 20 league goals for the first time in his career and although the early signs are promising, it is worth remembering that this is not the first time he has started a season so prolifically. That said, as he embraces the peak years of his career, Defoe looks set to defy the doubters, and, indeed, logic, as the spearhead to Villas-Boas' Tottenham revolution.
Follow Jay Jaffa on