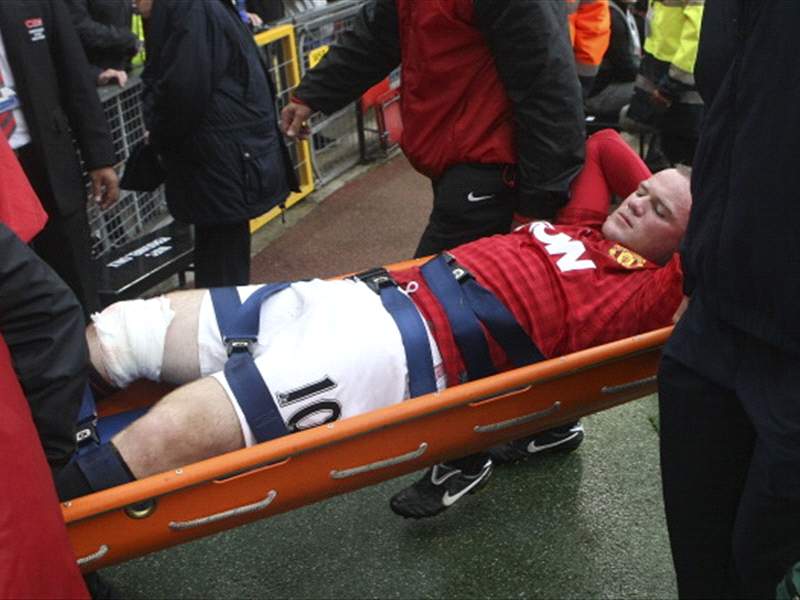 Manchester United
manager
Sir Alex Ferguson
says
Wayne Rooney
's injury could prove to be a "blessing" as it will allow him to improve his level of fitness.
The striker suffered a deep gash to his thigh in United's 3-2 win over Fulham and is expected to be out for four weeks, which his manager feels could help him.
"The injury is maybe a blessing because he can concentrate on his fitness now in the gymnasium in particular," he told reporters.
"He said himself he needs a few games and I wanted to play [Robin] van Persie at the start at Old Trafford. I knew he wasn't 100 per cent fit either. I couldn't really start the two of them.
"It wasn't an easy choice, simply because you're leaving out a really good player and you're leaving out a player who can get you goals. His scoring performance over the last few years has improved each year. It's getting better every year."
Rooney will miss Sunday's trip to Southampton although Sir Alex did have some good news regarding his defence, where he has been forced to play Michael Carrick as an emergency centre-back due to injuries.
"Jonny Evans played Wednesday in the reserves and came through fine," he added.
"He is certainly the strongest option we've got. Phil Jones is back doing some training but not ready yet. Rio Ferdinand's in the same boat. At least we have one centre-back available."
Midfielder Darren Fletcher is also nearing a return having featured in midweek in an Under-21 game for the club, but his manager was remaining cautious about a possible return.
"The first thing to mention is he has put weight back on now, he's back to his normal weight from two to three years ago. He's training well every day," he said.
"He played the other night and did really well but I don't know where he's at, to be honest.
"With the condition he has, and has to deal with, it's wait and see. If he keeps doing as well as he's doing then he will come into contention because he's a fantastic player."