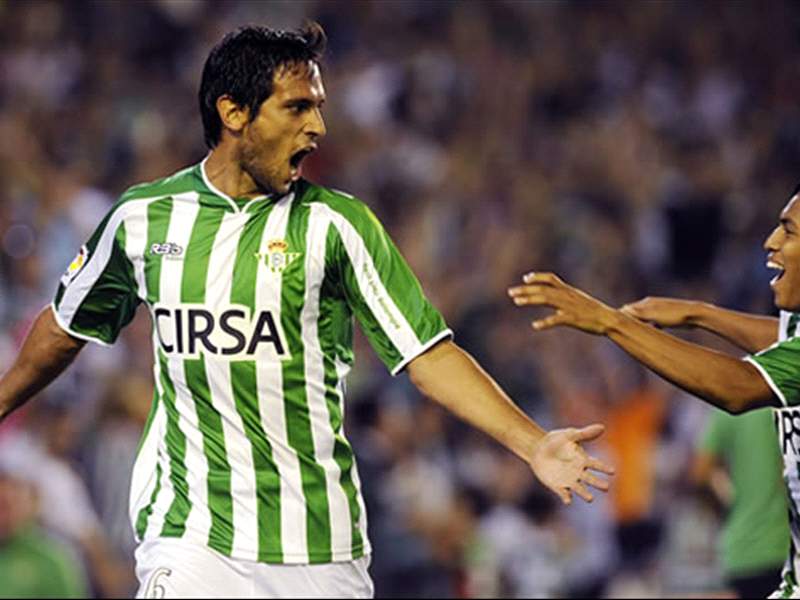 Manchester City
striker
Roque Santa Cruz
has made it clear he wants to return to
Real Betis
this summer and is willing to take a £6.3m hit in order to get his way.
The Paraguayan has one year left on his contract with the Premier League champions but is aware he does not figure in manager Roberto Mancini's first-team plans.
City are keen to sell the player, or at the very least loan him out in order to remove his £4.5m salary from the wage-bill ahead of the transfer window's closure next week.
Their attempts have hit a stumbling block, though, with Santa Cruz determined to re-join the Spanish side, where he spent last season on loan and helped them to a 13th place finish in La Liga.
The player has made it clear he wants to return to Spain, even though the salary on the table at Betis is just €600,000-per-year (£475,000) in what would be a two-year deal with an option of a third.
The former Bayern Munich star has rejected offers from clubs in Dubai, China, Russia and Mexico which could have potentially earned him over €9m (£7.1m) in order to pursue his goal of returning to Betis where a guarantee of just €1.2m (£1m) is on the table. He also spurned the advances of Bundesliga side Werder Bremen.
Santa Cruz insists the only options he is considering are returning to Spain or remaining in the stands to sit out the final year of his contract at Etihad Stadium. Indeed, City have been shocked by the player's determination to secure a return to Betis and miss out on the financial opportunities available elsewhere.
Recently, the 31-year-old striker has been supporting Betis on social media, making posts such as: "Great Betis! Great away win against Bilbao! Congratulations to all the team. "