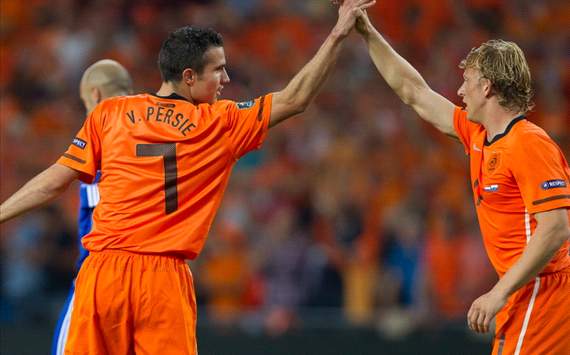 Arsenal
striker
Robin van Persie
has donated a £30,000 cheque he received for his goalscoring exploits to international team-mate
Dirk Kuyt
's charity, The Dirk Kuyt Foundation, which helps handicapped athletes.
Van Persie earned the money from his top-scoring season of 30 goals in the Premier League, and has decided to donate to the worthy cause run by his former Feyenoord strike partner Kuyt and his wife Gertrude in the Netherlands.
"I've never come across this in football," Kuyt said on his foundation's website. "It says something about Robin as a football player. He is one of the best in the world.
"The fact that he instantly thought of a team-mate and chose to donate the money, says a lot about the person Robin van Persie.
"I've been playing with him since my Feyenoord time, but this is unique of him."
Van Persie's future is still unresolved following the revelation in July that he would not be extending his contract at Arsenal, with Manchester United rumoured to be his destination this summer.
But the striker didn't mention anything about his future, adding a short line on the charity.
"Dirk is always so enthusiastically engaged in the development of his foundation," Van Persie said. "I think it's nice to see that he is so committed to helping those less fortunate."