Chelsea
captain
John Terry
has been found not guilty of racially abusing
QPR
defender
Anton Ferdinand
, prompting, as ever, a mass of reaction on Twitter.
Following the former England skipper's acquittal, which was the culmination of a five-day trial, football's great and good took to their keyboards to vent their thoughts on the matter.
So, without any further ado, here we go...
"John Terry found not guilty. Wonder if the FA will take any action given similarities to the Suarez affair."
Gary Lineker
believes Terry isn't out of the woods quite yet.
"The FA couldn't prosecute Terry while the criminal case was pending as not to prejudice an outcome. Will today's ruling prejudice theirs?"
However,
Spoony
claims today's verdict could have a bearing on any future FA decision.
"Hugely problematical for FA to make case v Terry post acquittal - even with 'differing proof' criteria. Legal minefield for FA."
Journalist
Henry Winter
summarises the problems facing the FA over the Terry verdict.
"Well!!! That verdict means it's open season on black players!!"
Player-turned-pundit
Rodney Marsh
is predicting extremely negative repurcussions from Friday's verdict.
"That lawyer is good... First OJ then JT... #magicman"
Robbie Fowler
is of the belief that magical forces are at work in engineering Terry's acquittal.
"I can't get my head around the "not guilty" verdict, it's madness."
Anthony Gerrard
, cousin of
Steven
, reveals what he thinks about ths case.
"Well, the verdict is in..regardless of views, let us now turn our attentions to ensuring there is more equality in our Game..‪#actionnotwords‬"
Jason Roberts
looks to the future following the announcement.
"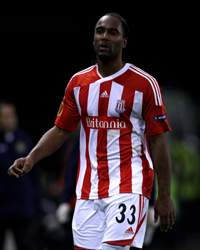 Why are people bringing up Suarez..he was found
Guilty...in this case a Not Guilty verdict came back...we will await The FA findings.."
Roberts
then reveals what some of his followers have been talking about.
"Very interesting verdict say no more about the uk justice system then. May as well go behave how we want people. May as well go rob a bank and when I get caught just say was only banter and they started it by calling me names lol."
Stoke
striker
Cameron Jerome
gives a slightly extreme view on what might happen next...
"Shock, F***ing Joke."
Former QPR defender Fitz Hall gives his view on the outcome of the trial.