The letter from
Robin Van Persie
to the
Arsenal
fans in full, taken from the player's official website:
"This is an update for the fans about my current situation. I have kept quiet all this time out of respect and loyalty for the club and as agreed with Mr. Gazidis and Mr. Wenger, but since there is so much speculation in the media, I think it is fair for you guys to know what's really going on at the moment.
WHERE DID IT ALL GO WRONG?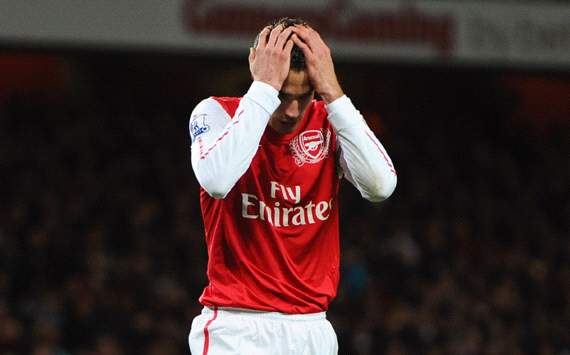 September 2011
Van Persie refuses to enter talks over a new deal: "I still have almost two years left, so for the moment that's fine. I'm happy with my contract. I can't look into the future. I can't see us talking now because we are so busy."
May 04, 2012
Wenger hopeful that Van Persie will sign a new deal: "Who would want to lose his best player? My desire and my wish is to find an agreement with Robin van Persie, extend the contract and stay with us for a longer time. Hopefully we can reach that."
July 4, 2012
Reveals on his personal website that he will not sign a new deal with Arsenal as his hopes for the club are not matched by Wenger.
"As announced earlier this year I had a meeting with the Boss and Mr. Gazidis after the season.
"This was a meeting about the club's future strategy and their policy. Financial terms or a contract have not been discussed, since that is not my priority at all.
"I personally have had a great season but my goal has been to win trophies with the team and to bring the club back to its glory days.
"Out of my huge respect for Mr. Wenger, the players and the fans I don't want to go into any details, but unfortunately in this meeting it has again become clear to me that we in many aspects disagree on the way Arsenal FC should move forward.
"I've thought long and hard about it, but I have decided not to extend my contract.
"You guys, the fans, have of course the right to disagree with my view and decision and I will always respect your opinions.
"I love the club and the fans, no matter what happens. I have grown up and became a man during my time with Arsenal FC.
"Everybody at the club and the fans have always supported me over the years and I have always given my all (and more) on and off the pitch.
"I am very proud of being part of this fantastic club for the last 8 years. As soon as Mr. Gazidis is back from his 2-week holiday in America further meetings will follow and I will update you if and when there are more developments."
Robin van Persie