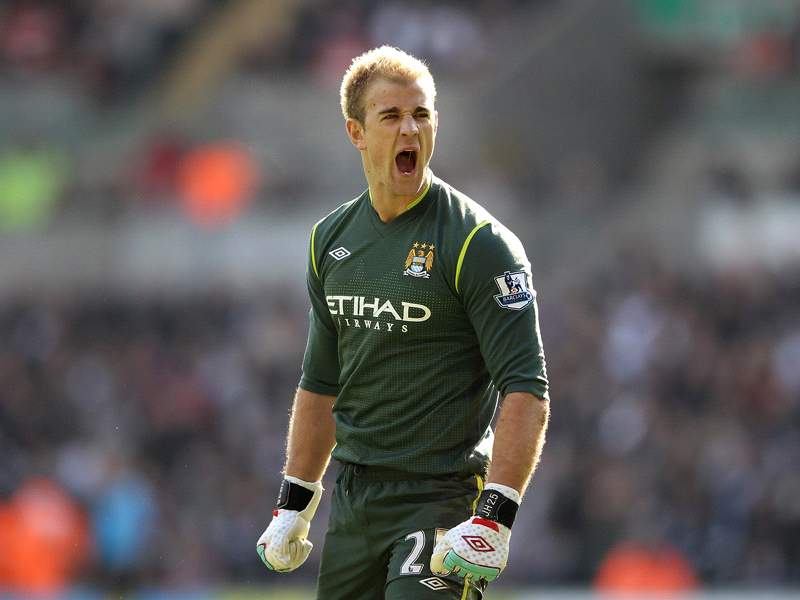 Manchester City goalkeeper Joe Hart says his team-mates are refusing to give up on lifting the Premier League title, despite manager Roberto Mancini insisting the race is over.
City find themselves five points behind rivals Manchester United with just four games remaining, leading the Italian boss to concede that Sir Alex Ferguson's men will seal their 20th championship.
However, United must travel to the Etihad stadium next week and Hart believes his manager is simply playing mind games.
"There is no point in us turning up on Sunday if the title race is over," Hart told reporters.
"We've still got to believe, we've still got to fight for every single point available.
"I don't think he [Mancini] means that the season is over. I think he is just trying to play it down a little bit and let us get on with what we need to do.
"There is no way any of us would give up until it is mathematically impossible."
Manchester City have won their last two Premier League games to keep the pressure up on United and the 25-year-old was keen to praise the impact made by the returning Carlos Tevez.
"We have been a bit dry on goals recently, so that fresh Carlos input has been awesome," he said.
"You can say what you want about Carlos Tevez, but when he plays, he plays to win and he plays for his team-mates.
"There are far more important things in our lives than what went on and what didn't go on. We have that goal of trying to win the league and Carlos has bought into that.
"He has not come in and tried to make any big statements. We have just all moved on."