EXCLUSIVE
By
Rob Stewart
Former
Newcastle United
manager
Glenn Roeder
believes that
Juan Mata
could come to the rescue for under-pressure
Chelsea
boss
Andre Villas-Boas
at the Sports Direct Arena on Saturday.
While Roeder, who oversaw Newcastle's last Premier League victory over Chelsea in May 2006, thinks the Blues look vulnerable, he feels Mata still has what it takes to get his team back to winning ways but has backed rookie Sammy Ameobi to rise to the challenge of thwarting him.
"It is could be the kiss of death to say this is a good time to play them but it is as good as any in the last couple of years," Roeder told
Goal.com
.
"They're not the fortress at the back they used to be or the potent attacking threat they once were, but still they're a very good team on their day.
"They have so much experience some say they're an ageing squad but, for me, you're at your best around the 30-mark because you have that know-how that means you have no fear about attacking any match in any circumstances.
"You just get the feeling Chelsea are not in full flow or all at ease with each other and what they are trying to achieve. But as individuals they still possess some super players."
As his old club prepares to honour the late Gary Speed, former Newcastle defender Roeder gives Goal.com his assessment on where the game will be won and lost.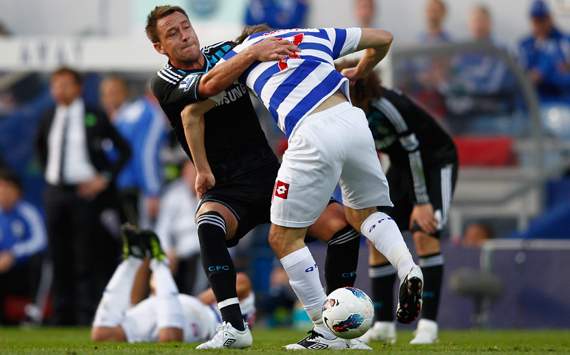 "The more you write John Terry off the more he will puff out his cheeks and stick his chest out. He is one of those characters who the more he gets criticised and the more people say he is on the slide, the more that will motivate him.
"So if I didn't want Terry to play well I wouldn't criticise him – I would just keep quiet. And there is no reason to wind him up and make him angry because that will get him going even more.
"Whatever we say about John, the bottom line is that he has been a successful captain of Chelsea for many years and for as many bad things as he has allegedly done, I also know that there are plenty of good deeds he has done that never get mentioned.
"Demba Ba is having a goal-scoring run that he can only have dreamt of. On top of the seven he scored at the back end of last season for West Ham, he has now scored nine goals in his last 14 games for Newcastle
"Demba was a real handful when he was at West Ham but then again he is the sort of player that Terry will relish playing against in that he is big, strong and powerful and he will try to knock centre-backs out of the way – but John stands up to that type of player. He will enjoy this encounter."
Frank Lampard v Yohan Cabaye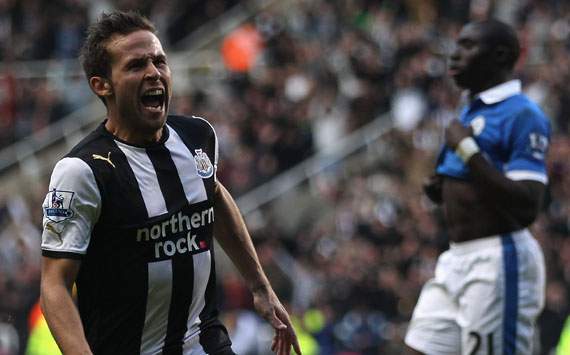 "In my eyes Frank Lampard has to be one of the most admired players of the last 10 years. I've known him since he was a 12 years old and so I appreciate how hard he has worked to become the player he is.
"Whilst Rio Ferdinand had God-given talents and was an absolute certainty to become a top defender, Frank did not have the same amount of flair and ability but you will never see a professional player work so hard to achieve his targets and he is still a huge talent.
"The thing is with Frank is that he doesn't complicate the game because he was well schooled by his father in the West Ham way, very much a one or two-touch game, always shifting the ball to the nearest player so he doesn't take too many risks in possession.
"It is no luck that in a full season he is a 20-goal player because he is prepared to buy a ticket in the raffle and shoot anywhere in and around the box rather than laying it off. Four or five of those goals would be via ricochets but it is not luck. To win the raffle you have to buy a ticket. He has practised that.
"It will be the first time Yohan Cabaye has come up against him and he will have to be at his most alert and sharpest when he is breaking into the penalty box because Frank has a knack of finding space in the box and the ball seems to be attracted to him."
Hatem Ben Arfa v Raul Meireles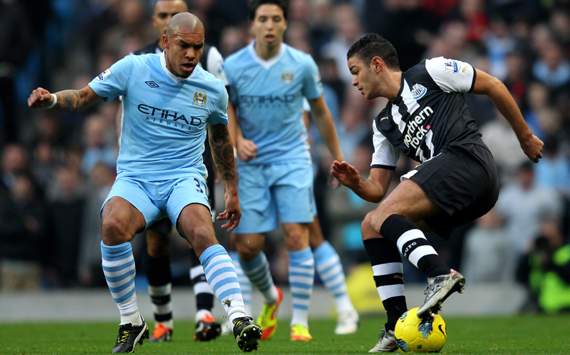 "Alan Pardew has often been very positive at home and played the two strikers, which means you only have two in central midfield and I am not sure I would want to play two against three Chelsea midfielders. I would want to be matched up.
"At Manchester United they played with Hatem Ben Arfa just behind the striker to make it three in midfield and maybe Alan will do that again because they are facing a Champions League team.
"I wouldn't want to be outnumbered in midfield and allow Chelsea the lion's share of possession because they are still a very dangerous team in possession.
"With Ben Arfa dropping off Demba Ba and playing in a slightly more deeply lying role, it will stop Raul Meireles from getting the ball and having the time to get the ball rolling from the centre of the park."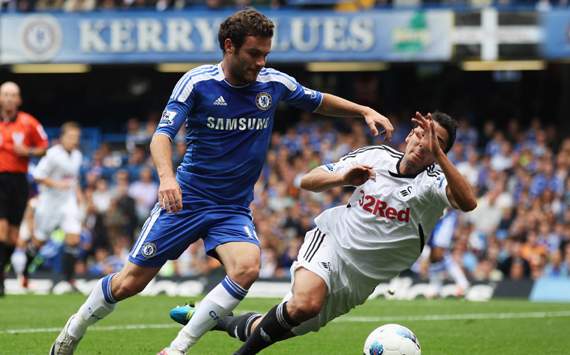 "Juan Mata is to Chelsea what Rafael van der Vaart is to Tottenham. He likes starting in a wide left position and then wandering infield and when he does that he doesn't get picked up.
"He is the same as Van der Vaart at Spurs in that when they are at their best then so too are their teams. When Mata is on the ball a lot it usually means that Chelsea are on the top of their game.
"It is when Mata doesn't get on the ball that Chelsea haven't been at their best this year so the more they get him the ball the more dangerous they will be and I am sure they will recognise this in their team as they have so much experience.
"Jonas Gutierrez would relish the challenge of cutting off the supply lines to Mata but he is suspended, which is a shame for Newcastle because he has been excellent this year.
"Some people reckon it would be a hell of a risk to put in young Sammy Ameobi but knowing the Ameobis as I know them I can say with a fair degree of certainty that taking on Mata will not faze him.
"He is, of course, some way off being the finished product but he is nice on the eye when he is playing and he is going to be a good talent. The midfield area will be and whoever dominates possession will run the game."
Steven Taylor v Didier Drogba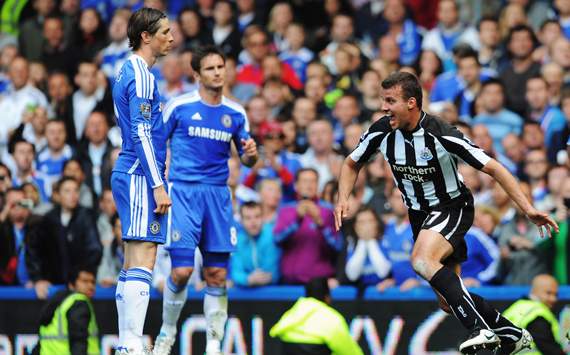 "Steven Taylor is probably having his best season ever and the most important thing is that he has a rock-solid partner in Fabricio Coloccini and that partnership has been fundamental to Newcastle's success this season.
"When he was a younger player he seemed to have different central defensive partners because we couldn't find an appropriate team-mate, but now things seem to have really settled down and keeping clean sheets and winning games does amazing things – more than any manager's team talk - for confidence.
"Physically Steven is a strong boy but Didier Drogba is even stronger – one of the strongest the Premier League has ever seen – and a lot of Chelsea's success hinged on him because he was the perfect lone striker under Jose Mourinho.
"He can run in behind defenders, he can have the ball to feet, he's always a goal threat and always asking questions of defenders and causing problems. They always have to keep looking out for him.
"When you're in possession he doesn't give you a minute's rest. He tackles as hard as any centre-back would. He might be the wrong side of 30 and he is talking aboyt leaving and he might not be at his best but he is far from being a spent force.
"When he was manager of West Ham we came very close to signing him from Guingamp when no-one had heard of him. He was different class. He was such a presence physically and had the qualities that are so important in the Premier League. He was going for less than £1 million but we didn't have any money and the rest is history."
Follow Rob Stewart on

Visit our Euro 2012 microsite for all you need to know ahead of Friday's draw and beyond - team profiles, stadium guides, even which hotels are best to stay in!