Yossi Benayoun
is at the centre of a Twitter storm after the midfielder, currently on loan at
Arsenal
from
Chelsea
, openly celebrated the Gunners' famous 5-3 win on the social networking site.
The midfielder signed for Arsene Wenger's side on a season-long loan deal this summer after struggling with injuries and a lack of first-team action at Stamford Bridge since joining the Blues from Liverpool.
Before the match, Benayoun had tweeted to his 106,000 followers expressing his disappointment that he was unable to play in the big London derby, due to Premier League rules.
But being unable to represent Arsenal against his parent club did not stop the Israeli from expressing his delight at the result against the side which holds his registration.
The 31-year-old tweeted: "What a great win today!!! Well done guys!"
The public proclamation infuriated many frustrated Chelsea supporters who saw the message just as they digested the morale-denting defeat to their rivals, which arrived courtesy of a Robin van Persie hat-trick.
BENAYOUN'S TIME IN ENGLAND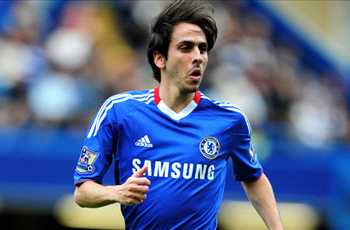 2005-2007: West Ham, 72 apps
2007-2010: Liverpool, 134 apps
2010-2011: Chelsea, 11 apps
2011-present: Arsenal, 6 apps
One Blues fan tweeted: "I liked - really liked - @YossiBenayoun15 until yesterday but not now. He is judas for sure and I still can't digest the way he celebrated against #cfc."
Another replied directly to Benayoun, saying: "Even if you do not want to play for Chelsea anymore, at least show some respect for them."
"After all the days of difficulties at Chelsea, we loved you, supported you and now you spit back on our faces," said one deeply affected follower of the club.
"I have lost a lot of respect for him. We as a club supported him when he was injured and now he is happy about our defeat, even though he is still a Chelsea player," argued another.
One Chelsea fan urged any fans of the Blues to end their association with the playmaker, saying: "Go click unfollow button on this account @YossiBenayoun15, he is not a Chelsea player ANYMORE!"
As the reaction to the comment spread around Twitter over the course of Saturday and Sunday, another fan of Andre Villas-Boas' side added: "I wish we had sold Yossi Benayoun and not loaned him after what he has done now."
While Chelsea supporters were angry at what they saw, it seems the message has improved his standing with Arsenal supporters, who continue to celebrate a run of form that has put their season back on track.
One joked: "I think @YossiBenayoun15 has confirmed his permanent transfer to Arsenal. Transfer fee: One tweet!"
Another supporter of the Gunners tried to comfort the player after seeing a number of the critical remarks from Chelsea fans go through.
They wrote: "We love you here at Arsenal, Yossi. We love our players here. Fans treat them with respect. I hope you are fine - keep working hard."
Other Arsenal fans were more celebratory of his declaration, one saying: "Don't mind the Chelsea fans! We all love you and I want you to stay with us for a long time."
Another added: "After yesterday it is clearly evident that Yossi Benayoun is a Gooner!"
One triumphant fan simply wrote: "Yossi is a top man for doing that, he's Arsenal all the way."
Benayoun took to his Twitter account again on Sunday afternoon to respond to the comments, saying: "Shame that some of the chelsea fans here take my last tweet in a wrong way..
"Its obvious i would say well done to my team mates. This is what's sports is all about."