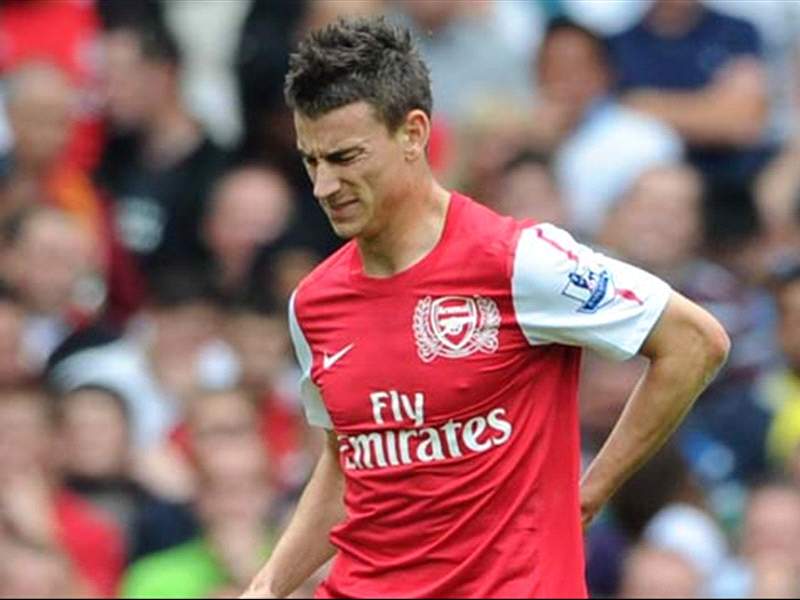 ANALYSIS
By
Rob Stewart
at Ewood Park
It is not so long ago that
Laurent Koscielny
had the irrepressible Barcelona ace Lionel Messi in his pocket but now the
Arsenal
defender is not even up to keeping Blackburn Rovers' Junior Hoilett at bay.
The Frenchman excelled for the Gunners when Messi and his Barcelona colleagues headed to the Emirates in the Champions League last season and won rave reviews for a commanding performance at the heart of Arsene Wenger's defence in a 2-1 victory over a side destined to be crowned European champions.
However, fast-forward just seven months and the central defender who stifled the likes of Messi and David Villa on that memorable night in London now looks like a player who would struggle to get into a mid-table Championship side rather than one competing in the Champions League.
He was hailed as Arsenal's best defender when his team chalked up their first ever win over Barcelona, but in the 4-3 defeat at Blackburn on Saturday he not only scored the own-goal that ultimately decided the outcome of an error-strewn game but looked like a liability for a side who have won just three of their last 16 Premier League games.
In the final analysis he was at fault for three Blackburn goals and looked like a player who is brutally out of his depth – even when the hapless Johan Djourou entered the fray as a second-half substitute.
The official Arsenal website describes Koscielny, who joined Arsenal from French side Lorient last year in a deal reportedly worth £8.5m, "as a quick-thinking centre-back who reads the game exceptionally well" but that glowing assessment could not have been further from the truth if his personal performance in Lancashire was anything to go by.
For this observer, it was difficult not to feel sympathy for Koscielny because the 26-year-old is so short on confidence he played like someone who has been paralysed by fear. For some his goalmouth gaffes were the source of much mirth; for others they were a cause for consternation.
"They have got the worst goal difference in the Premier League, which doesn't sound right, but when you see some of their defending it really was quite shocking at times,"
Match of the Day
pundit Alan Shearer said.
"For the whole of the back four and even the goalkeeper at times it was incredibly poor."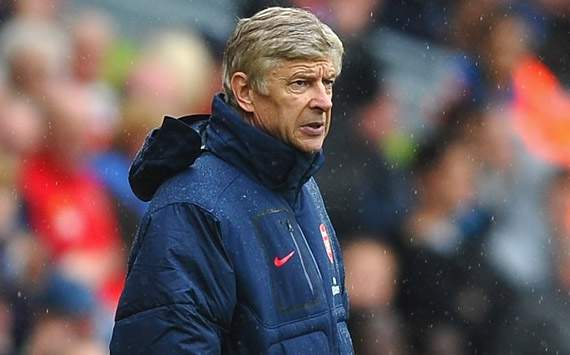 Worrying times | Arsene Wenger surveys the damage at Ewood Park
For Wenger, though, this is an issue that he needs to treat as a priority when he gets into work on Monday morning because with Thomas Vermaelen currently out injured he needs Koscielny to regain focus and self-confidence because hesitation can be critical, especially at set-plays, and is undoing all the good work Arsenal accomplish as an attacking unit.
Both focus and self-assurance deserted Koscielny at Ewood Park where his lack of concentration proved so costly at set-pieces, and Wenger must address psychological issues by working on the practice ground on his nascent partnership with Per Mertesacker because the pair played like strangers against Blackburn.
It can't have helped Koscielny that Wenger has had to keep chopping and changing his defence since he arrived at the Emirates, but now the lines of communication between the pair have to be improved by Wenger and his coaching staff, such as Pat Rice, as a matter of urgency. Otherwise everything his team do will be built on sand.
KOSCIELNY STRUGGLES


PLAYER RATING

5

What could go wrong did go wrong. Still looks shaky and his own goal summed up a poor performance from a player who looks ill suited to the cut and thrust of English football. Rabbit in headlights.
There is hope, though, for Gooners because the endeavours of the Invincibles side that went through the 2003-04 season without being beaten with Sol Campbell and Kolo Toure in central defence showed that the French manager does know what he is doing when it comes to the fine art of defending. Now he needs to remember how he did it so Arsenal can recover from their worst start to a league campaign in 58 years.
As well as the mind games, Wenger also has to re-think his strategy, because their attacking formation at Blackburn left his defence vulnerable and now he must surely be looking to deploy Alex Song and Emmanuel Frimpong as a two-man midfield shield in front of his defence and sacrifice an element of flair because his team need to become hard to beat again rather than being pushovers.
At Ewood Park, Wenger acknowledged that a lack of confidence was undermining his team but Koscielny looks to be the worst affected.
"We made mistakes and especially on set-pieces you can not make the mistakes we made," Wenger said. "It is very difficult to accept that you lose a game when you have so much domination and create so many chances. It is basically unbelievable.
"For the second, third and fourth goals we were guilty of making basic errors. What can you do about it? You have to focus on the next game. You could see that the confidence in our defenders has gone a bit and we need to find it again. I hope it is not a slow, long re-building process because we have the potential to do well. It is important we get our confidence back quickly."
Former Arsenal and England defender Kenny Sansom believes Wenger should promote youth team coach and former Gunners centre-half Steve Bould to first-team duties.
"It is clear there is a problem defensively at Arsenal and that is going to cause more problems because opponents are going to try to expose that," Sansom said. "You have to teach the defenders how to talk to each other. Communication is massive, especially for the back four and goalkeeper.
"For me Stevie Bould was as good as Tony Adams as a player. He was very under-rated but Stevie should go in there two days a week and work with that back four on positioning, shape, communication so you know exactly where you are for 90 minutes and then you will have done your job.
"It is going to be a long, long season. There is no problem attacking-wise, we just have to sort out the defence. You can't score three goals away from home and lose on a regular basis otherwise the club will have a tough season."
For now, though, Premier League clubs will be queuing up to have a go at Arsenal and especially at the fretful Koscielny who still looks like someone who has gone away on holiday and realised he left the front door open.
There is much to admire about the Wenger philosophy and the way he encourages his teams to go about their business but the way they defend is embarrassing. It is time to go back to the drawing board to give the brittle Arsenal side some much-needed backbone.