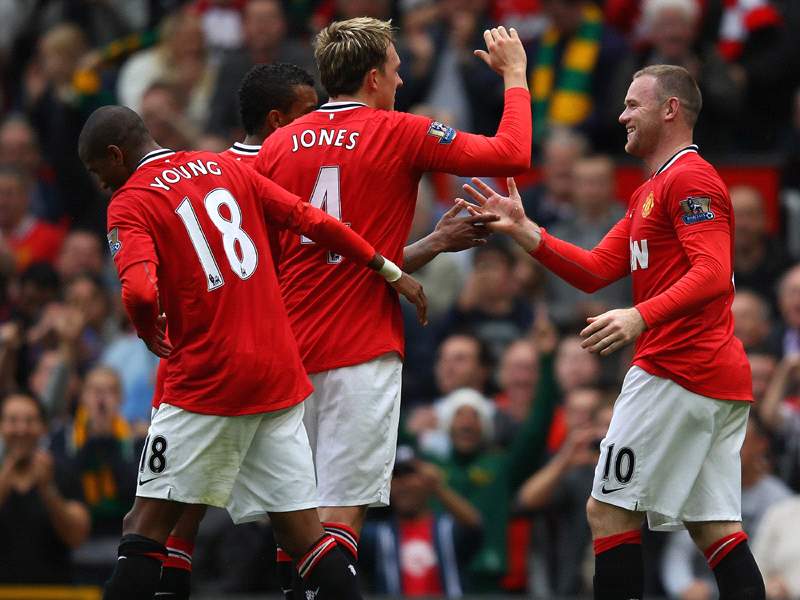 Manchester United
striker
Wayne Rooney
raced ahead of team-mate
Ryan Giggs
as the club's all-time top Premier League goalscorer with two wonderfully struck free-kicks and a penalty in Sunday afternoon's win over
Arsenal
.
The former Everton man has made a formidable start to the new Premier League season with four goals in three games, and having netted in both the games against Tottenham and West Brom was again on the scoresheet in the clash with the Gunners.
HOW ROONEY COMPARES

All-time leading scorers for
Manchester United
Sir Bobby Charlton
Denis Law
Jack Rowley
George Best
Dennis Viollet
Joe Spence
Mark Hughes
Ryan Giggs
Wayne Rooney
Paul Scholes
Ruud van Nistelrooy

249
237
211
179
179
168
163
159
152
150
150

His first two strikes against Arsene Wenger's side were wonderful free-kicks finding either corner of Wojciech Szczesney's goal.
The England man then wrestled the ball off previous all-time top Premier League goalscorer Ryan Giggs to complete his hat-trick with a well-struck penalty to take the score to 7-2 in what proved to be a rout at Old Trafford.


It was a day of records, with Arsene Wenger suffering his worst ever defeat as Arsenal manager. It prolongs the club's run to six Premier League games without a win, dating back to the tail-end of last season, which is also the worst run of Wenger's run.

Arsenal have won just two Premier League games in their last 14, and have had a man sent off in all three of their league games in this campaign, Carl Jenkinson dismissed against United just as Emmanuel Frimpong had been against Liverpool and Gervinho against Newcastle.

But the day belonged to Rooney, who began his Manchester United career with a hat-trick too, against Fenerbahce in the Champions League.

His first ever Premier League goal came against Arsenal as a 16-year-old playing for Everton, while his first league goal in United colours also came against Arsenal at Old Trafford in October 2004.