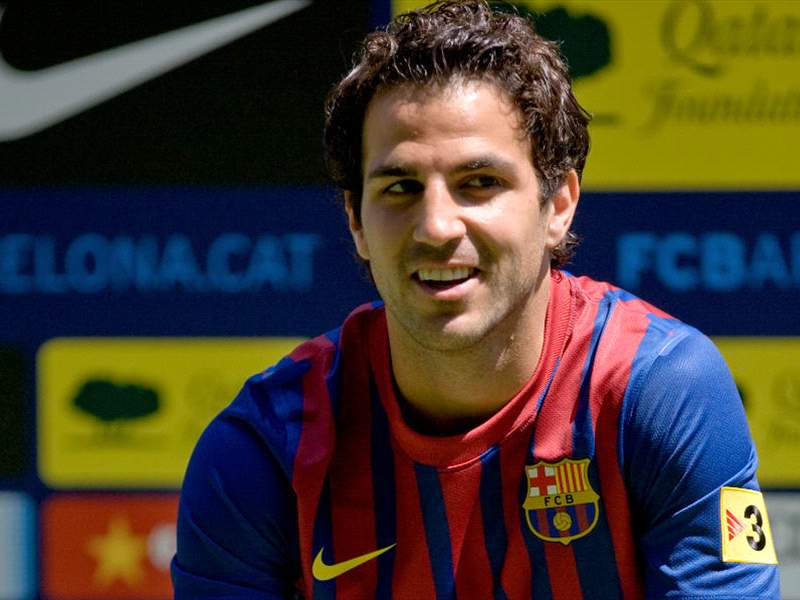 New
Barcelona
signing
Cesc Fabregas
has thanked
Arsene Wenger
for helping him grow as a player, and admitted he will always be thankful to
Arsenal
manager.
The midfielder finally completed his move to the Champions League winners after two-year pursuit, and he revealed his deep respect for his former manager as he was unveiled at Camp Nou.
"Wenger is a special person," said Fabregas.
"For me, he will be like a second father. I will never be able to thank him enough for all he did for me.
"He is a great person and I will always be thankful. I have a special relationship with him and we have spoken a lot.
"He did not want me to leave, not for £50 million or £80m. But my will has always been to come back here and my wish was decisive. I know that I might have harmed Arsenal's plans but I am sure they will fix it."
The Spanish international joined Arsenal from Barcelona as a 16-year-old and was keen to express his gratitude to those people who pushed for his homecoming, before declaring that he is ready to fight for a place with the world's best.
"I thank all of those who have worked for me to be here today," added Fabregas.
"I know that I left, and that it is not easy to trust a player who was gone one day. I also have to thank the head coach, who was the one showing interest in having me.
"I have suffered a lot not knowing about my future and it has been a few hard days for me. Happiness is maximum for me right now.
"A few years ago I was not ready to come back, but now I know that it is the right moment to compete with the best players in the world. I am not afraid. I like challenges."
Barcelona meet Real Madrid on Wednesday evening in the second leg of the Spanish Super Cup and Fabregas says that he is ready to make his debut at Camp Nou if Pep Guardiola selects him.
He continued: "I am physically fit and I am ready to play. It will be Guardiola's decision, but he can count on me."