EXCLUSIVE
By Rob Stewart
Former
Manchester United
skipper
Gary Neville
believes
Inter
talisman
Wesley Sneijder
would be a "great" addition to the Old Trafford first-team squad thanks to his attacking instincts, but has warned he will never replace Paul Scholes.
In an exclusive interview with
Goal.com
, Neville has enthusiastically endorsed United manager Sir Alex Ferguson's £35 million pursuit of Sneijder but insisted the Holland international would not act as a like-for-like replacement for the retired Scholes.
"Sneijder is somebody that could definitely play at United with his style of play," Neville told
Goal.com
, speaking on behalf of
DHL
.
"He is a player with great football intelligence. He knows where to be, he can pass, he can score and take up positions on the pitch that are difficult to mark. He is definitely someone who has played at the top level with Real Madrid and Inter Milan, so coming to Manchester United wouldn't faze him.
"You are never going to replace someone like Paul Scholes like for like because he was an absolutely brilliant footballer, but in the past the club has had to replace the likes of Bryan Robson, Eric Cantona, Roy Keane and Peter Schmeichel and they have always done it a different way.
"Roy Keane left and Michael Carrick came in, Eric left and Teddy Sheringham came in. It is very difficult to produce a like-for-like replacement for this type of player but you always find a way and the club will continue to be successful using players of different capabilities to Paul Scholes."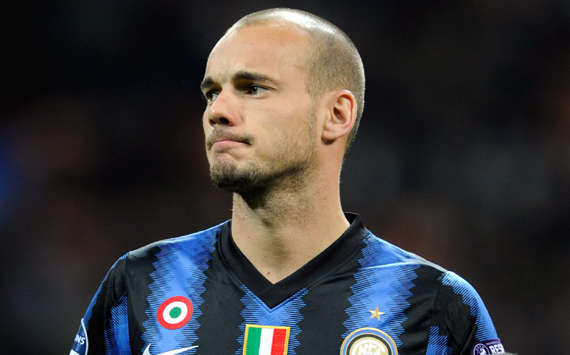 Dutch courage | Neville believes Sneijder has the qualities to succeed at Old Trafford
Neville, who retired from playing after making 602 United appearances, added: "The manager works in a very measured and calm manner and as a player on the inside you don't get too wound up about the players who are going to be signed. You concentrate totally on the players you have got.
"As a fan I would love to see the manager bring in brilliant players from all around the world. The way I look upon it at the moment if Wesley Sneijder was to come in then that would be a great signing, but on the other hand I am sure that there will be another young player coming through the ranks if Wesley Sneijder doesn't sign for the club. At this moment in time he hasn't signed for United, so I am sure a number of clubs would like him."
Neville is confident that England winger Ashley Young – who signed from Aston Villa for £16m – will raise his game to cope with the pressures of playing for the Premier League champions and will thrive alongside better players than he is accustomed to at club level.
"Ashley Young has the potential to do really well at Old Trafford," Neville added. "He has played for England over the last year, which will have given him the feeling that he can play at a higher level.
"Playing at Aston Villa is probably a step below playing for United and there will be greater expectations upon him and standards required from him this year, but he has proved at Villa that he can do well and this year it is his moment.
"He has to go out on a stage where there are 75,000 for every home game and deal with the expectation that goes with playing for United and I am sure he has the talent and ability and temperament to handle it. Everyone will be looking forward to seeing him play because, with all due respect, he will be playing with great players around him in all positions."
Neville spoke out as Young headed off on a pre-season tour of the United States with his new team-mates, a trip that revived memories for Neville on quirkier matters.
The 36-year-old father-of-two said: "When we'd go on tour the things we would send back were presents and things that we would buy that we couldn't carry back ourselves, such as fragile items or pieces of furniture if we were doing things for our homes. The quirkiest thing I sent back home were some Moroccan chairs that are still taking pride of place in the Neville household."
Manchester United's 2011 US Tour is delivered by DHL, the club's Official Logistics Partner. DHL will bring its unrivalled logistical expertise to support the team throughout the tour. For more information, visit: www.manutd.com/Tour-2011