EXCLUSIVE
By Rob Stewart
Wigan
chairman Dave Whelan is convinced that Latics boss
Roberto Martinez
has what it takes to eventually go on to manage
Barcelona
or
Real Madrid
.
In an exclusive interview with
Goal.com
, Whelan sang the praises of the Spaniard and admitted he had already seen enough of his managerial acumen to be certain that the 37-year-old will one day take charge of one of Europe's elite clubs.
"I think that in two, three or four years he will be at Barcelona or Real Madrid and there is absolutely no doubt about that because Roberto is a brilliant manager," said Whelan.
"Roberto is one of the youngest, brightest managers around and I really do think that he will only get better and that he has everything you need to take over at one of the biggest clubs on the continent.
"There are lots of factors that make him so special but the main things that spring to mind are his overall knowledge of the game and he is always interested in developing young players.
"He is tactically very astute, mentally very tough and his man-management skills are excellent but it's got to be remembered that he is still learning his trade in the Premier League which is the toughest, most unforgiving league in the world.
"Roberto has lots of qualities but the over-riding thing is that he has a massive desire to succeed within him that will take him to one of the very biggest clubs in Europe. I have no doubt about that."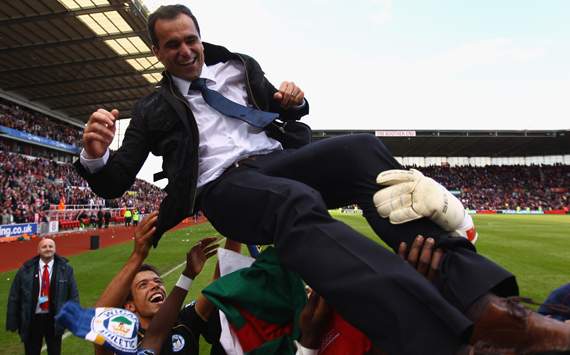 Rising high | Martinez is being backed to take the helm at a Spanish giant
Taking over the reins at Camp Nou or the Bernabeu would mean a return to Spain for Martinez, who began his playing career at his Catalan homeland club Balaguer before moving to Zaragoza.
After failing to make the grade there, Martinez returned to his hometown club before heading to England and signing for Whelan's Wigan side in 1995 when the Lancashire club were in the third tier of English football.
He had an undistinguished playing career before turning to management and taking over at Swansea, where he spent two years before being lured back to Wigan by Whelan in the face of competition from Scottish giants Celtic.
Wigan may have only managed to avoid relegation to the Championship on the final day of last season but Whelan had to fight off the advances of Aston Villa for his young manager following the departure of Gerard Houllier, and the pair are now setting their sights on a top-10 finish after Martinez pledged himself to the DW Stadium by signing a new contract.
"We want to finish in the top half of the league and that is the target we have set ourselves," Whelan added.
"While we have got Roberto we are in good hands because he has got very good ideas and he has assembled a very young side which is what he wanted to do. It will be interesting this year to see how our youngsters kick on.
"Hopefully we will get a better start this year than we did last year when we were hammered 4-0 by newly-promoted Blackpool. Keeping Roberto and the squad together has been of paramount importance and hopefully they will make a year-on-year improvement.
"They should be striving to play for bigger clubs and I would never stop them from going to bigger clubs, but only when they are ready. A lot of them have a lot of faith in Roberto and the advice he gives to them because they know that would not stand in their way the time is right.
"You can learn a lot from a so-called smaller club like Wigan and that should stand you in good stead for the rest of your career whether you are a player or a manager."
Our

provides the best breaking news online and our

football fan community is unmatched worldwide. Never miss a thing again!