By
Nick Price
Luka Modric is only 10 per cent better than Jordan Henderson, according to Chelsea
It's official: silly season is upon us.
Last week Liverpool ludicrously splashed out £20 million on the Sunderland midfielder (his real worth is about a quarter of that, but due to the English Prospect Tax and an apparent ability to trap a ball - not that you'll have seen that from his Michael Carrick-esque appearances for the under-21s - Damien Comolli was forced to pay top whack). This week we hear that Roman Abramovich had driven across London, wound down the window to his luxury car and lobbed a note over the gate at White Hart Lane which read:
'Luka Modric, £22m?, Loadsa love, R x'.
Not to put too fine a point on it, but what the hell is he thinking with such a ridiculously low bid?
Modric is twice the player that Henderson is and is tied to White Hart Lane for several years, but Abramovich thinks he's worth just 10% more than Liverpool's overblown new prodigy. It's like turning up at a Ferrari dealership and trying to buy a supercar for £890 because that's the going rate at the second hand Skoda garage next door.
It's not often that
WWLTW
can find sympathy with Harry Redknapp, a man who has left a trail of financial destruction at every single club he has managed yet still breezes through life whistling along without a care in the world, but when the wheeler-dealing blaggard opened his face hole to blurt out that Chelsea's offer was "ridiculous", this column stood up and bellowed: "Too bloody right it is."
Then again, Redknapp offered Everton about 57p and a couple of fags for their captain Phil Neville in January, so that sympathy didn't last long.
Presumably Abramovich, that famously patient man, will be back soon enough to finish this before it becomes another tedious summer saga, which brings us to…
Cesc and Barca sitting in a tree, k-i-s-s-i-n-g
It's well known now that the Spaniard wants out of Arsenal, not that the man himself would say so for fear of breaking the hearts of fragile Gunners the world over, but you don't have to be a mind reader to understand that the skipper's heart just isn't in north London any more.
This week the midfielder, who has won nothing since taking the armband at the Emirates, cried on Spanish radio: "Barcelona guarantee titles in the past, present and the future… it's clear that I, as a player, want to keep improving every day and see how far I can go."
He's basically acting like a gutless boyfriend who's become fed up with the relationship and is already eyeing up a new squeeze but just doesn't have the balls to do the decent thing and say he wants out, and instead will give the selfish cold shoulder to the club that has cut out pictures of him and placed them in its purse and gives him lots of big hugs and kisses.
Expect him to start ignoring Arsene Wenger's texts, playing Xbox when he should be training, refusing to tidy up after himself in the dressing room, and persistently leaving the toilet unflushed and with the seat up so that Arsenal get the hint loud and clear and break off their relationship so he doesn't have to.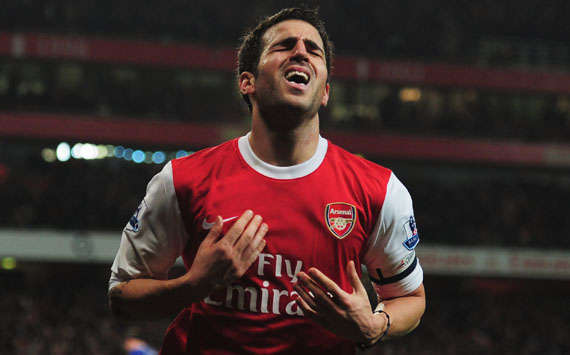 It's not you, it's me | Fabregas should text Arsenal and say: "We need to talk"
Jack Rodwell is stupid to think that England stars would walk into the Barcelona team
The Everton youngster hit back at criticism following the under-21s' humbling against Spain, who shared the ball between themselves like a bunch of stoners with a bong at Glastonbury, by slating those who claim the Three Lions lack technical quality and are useless compared to the world and European champions.
"You look at our senior side, we have some of the best players in the world," he said, presumably referring to the full England squad on Fifa '11 where they are only two points off being as good as Spain.
"Gerrard, Lampard, Terry, Ferdinand, Rooney – the list goes on. If they were in the Barcelona squad I'm sure all of them would start."
Nobody denies that the above mentioned players are good technically: Steven Gerrard can hit a mean pass and can shoot, as the song goes, from 40 yards; John Terry can head the ball as well as he can (reportedly) do the dirty on his missus; Rio Ferdinand reads the game as if it were an Early Learning Centre book; Wayne Rooney is as talented as he is ugly; and Frank Lampard has mastered the incredible art of striking a ball against a defender so that it deflects into the back of the net.
But there's a world of difference between being able to pass a ball accurately and knowing how and when to spread the play rather than just panicking – ignore the stiff upper lip stereotype, almost all English players will be terrified when they are closed down and have nobody to turn to within 15 yards – and booting the ball up field for a striker to chase.
Forget groin surgery, Gerrard would need a lobotomy to make the Catalans' bench, and the same goes for Terry, Lampard and probably even Rooney – they're fundamentally not suited to playing slow, methodical football, which is exactly what Barcelona and Spain are so good at.
That's not to say that
WWLTW
wouldn't love to see them lot giving Camp Nou a crack and annoying the sanctimonious fans something fierce by adding some hoof to the tiki-taka. Pass, pass, pass, pass, pass, pass, dummy, backheel, ROW Z! It's got a nice ring to it.
What we will learn this weekend...


England's under-21s will perform like their senior counterparts against the Czech Republic and will head home from Denmark with their tails between their legs after showing the technical acumen of Homer Simpson trying to sort out broadband.

Yet despite their embarrassing exit, coach Stuart Pearce will lead the tub thumping brigade by insisting he is proud of his team's "never say die" attitude which can never, ever be taken away from the "DNA of this great footballing country".

Cesc Fabregas will get splinters in his backside as he sits on the fence for a few more days when asked whether he is leaving Arsenal for Barcelona.

Sir Alex Ferguson will gazump Liverpool's bid for their next transfer target just for the hell of it.
Aston Villa fans need to learn that average beggars can't be choosers
The Midlands club's fans last week got out their pitchforks when former England boss Steve McClaren was being sounded out over taking over the managerial job, forcing owner Randy Lerner to cool his interest in the umbrella aficionado, but the rabble rousers were out in force once again to turn Villa Park into Tiananmen Square when it emerged that Alex McLeish was the man heading the American's list.
The Scot who brought the League Cup and relegation to local rivals Birmingham last season is not a terrible manager, nor he is a great one – exactly like Villa, you could say. This is a club that has won one trophy in 20-odd years, is about to sell off by far and away its best player, is littered with mediocre individuals and is owned by a man who has already poured in countless millions of his own money only to see it turn into a few sixth-placed finishes while an uppity little Northern Irishman moaned like a spoilt brat about wanting more and more cash.
Frankly, they're hardly a decent proposition for any up-and-coming manager to want to take on, and the sooner their fans – with their bonkers self-aggrandising ways – make peace with that the better.
WWLTW
would love to see McLeish embarrass the idiots who have threatened not to turn up next season by getting off to a flying start.
Kudos, too, to Villa for announcing McLeish's appointment at the same time as the fixtures for next season were released. A classic distraction tactic to bury bad news. "Ggggrrrr, Alex McLeish, Randy Lerner, grrr.... oh, Fulham away first up." They wish.
Bye bye Bebe
How bad must Besiktas be if they think the Portuguese waste of space – so rotten he was the worst player on the pitch by some distance when Manchester United took on non-league Crawley Town in the FA Cup – is worth a punt on loan for a season? And not just for nothing, they've paid Manchester United £876,000 for the privilege of having him on their books!
Henderson is a rip off at £20m, but Sir Alex Ferguson must be chuckling his purple face off at the thought of somebody having paid to take that useless lump off his hands… Then again, he was the imbecile who deemed it wise to splash out £7m on Bebe to begin with, just weeks after he was available for nothing and having not seen him play.
Nobody really comes out of this episode with any integrity intact, not least the player himself, who now gets to show a whole other country that he's rubbish – at least he gets paid a fortune to be rubbish, mind, which is more than can be said for the rest of us ordinary chumps.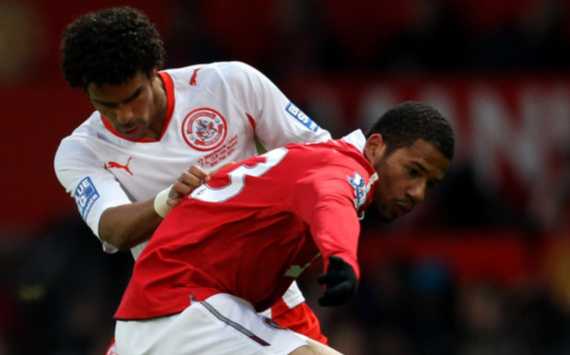 Bebe come back! | On second thoughts, don't: you are absolutely bobbins
Cardiff dodge a bullet and Saturday night's carry on being tedious as Alan Shearer turns down managerial job
The former England captain and full-time bore on 'Match of the Day' was this week in talks to take over the Welsh club but pulled out after "unsuccessful" negotiations.
Unsuccessful for who, exactly, Alan? Certainly not for the millions who will still tune in to see you state the obvious ("He'll be happy to have scored the winning goal", "Sir Alex Ferguson won't be pleased with losing that game", "Lionel Messi is a good player", "My trousers are tight and I look ridiculous in my ginormous collared shirts") every Saturday night, nor the Cardiff fans who must have been filled with dread at the thought of seeing you – with your stunning managerial record of won one, drawn two, lost five and relegated – in their dugout and probably thought about ditching the Bluebirds for Swansea.
WWLTW
can only presume that it was "unsuccessful" for Shearer's bank account, for the BBC – paid for by all Brits with a TV or radio – reportedly splash out half a million quid a year on the Bebe of punditry.
Adidas have a sense of humour
A couple of months ago the teutonic titans of tight-fitting shirts were dealt a blow when Liverpool turned their nose up at an offer to renew their kit deal in favour of American consortium Warrior (no, I've got no idea who they are either), who stumped up an extra bit of moolah.
Feeling snubbed, Adidas, in their last act as suppliers of Liverpool shirts, unveiled the club's new third strip for the upcoming season and had half of Merseyside up in arms and the other half laughing their heads off by flicking a bit of Everton blue on it.
It's the equivalent of changing the password of your work's computer to 'shoveyourjobyoulosers' on your last day in the office (if you're reading this, old boss,
WWLTW
did not do that nor did it throw toilet paper all over the canteen) – and that should be applauded.