ANALYSIS
By Will Jardine and Eduardo Saracho
Described as the "new Chicharito", Erick Torres has impressed since stepping into the Manchester United striker's boots at Chivas at the tender age of 18.
Unsurprisingly, the youngster has been on the radar of the Red Devils ever since breaking into the Mexican side's first team last November and it would appear that United are looking to strike gold in the region for the second time in a year.
Sir Alex Ferguson and Manchester United have built up a good relationship with the club following their dealings last summer for Hernandez. However, it is unlikely that Chivas will be as willing to sell the teenager given the success of the Hernandez since his transfer to Old Trafford a year ago.
The talented striker, who is nicknamed El Cubo, caught the eye of the national press ever since he made his debut.
He has quick feet, good positional sense and plenty of skill. He shares one trait particularly in common with Hernandez in that he likes to move the ball quickly, playing one and two touch football and then, like Chicharito, comes alive in the penalty area.
He scored six goals in 19 appearances last season since making his debut against Monterrey in November and is now trying to earn a place in the Mexican Under-20 national team that is due to play at the Under-20 World Cup in August.
How much will he cost?
The owner of Chivas, Jorge Vergara, has made it clear that he wants the teenager to remain at Chivas next season. He said "El Cubo has to continue with Chivas, not only because of his age, but to give the team what the team has given to him.
"I don't know anything officially about Manchester United's interest but El Cubo has a lot of great qualities and I wouldn't be surprised if Ferguson liked him and I will be pleased if he is interested as well."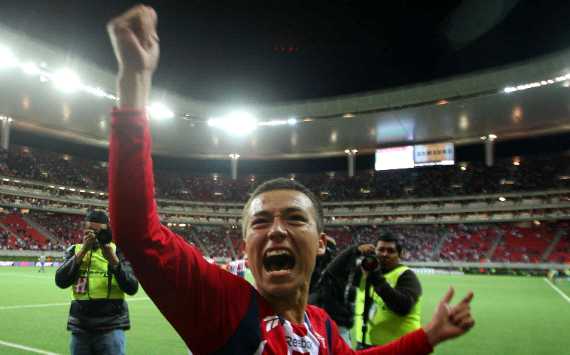 Chichari-two
| Torres has been described as the new Javier Hernandez in Mexico
Chivas are likely to have learned from the sale of Hernandez to the Red Devils, and will not want to settle for anything less than £10-12 million. Sir Alex Ferguson once quipped of Chicharito "we've stolen him", and Vergara knows that they can't afford to have lightning strike twice.
The Mexican side will try their upmost to hold on to the striker until at least the next transfer window in January, but if the right offer comes in they would find it difficult to turn it down.
Where would he fit in?
Torres' game would certainly suit the fast pace of the Premier League. He's got quick feet, can score with any part of his body - something Chicharito took to extremes last season - and has a terrific attitude, much like his predecessor.
Ferguson has always hailed the dedication of Chicharito in terms of his work ethic and his constant willingness to learn and improve his game. Sir Alex would get the same characteristics and enthusiasm with Torres.
Dimitar Berbatov is being linked with a move away from Old Trafford after falling out of favour with Ferguson towards the latter end of the season and being left out of the squad for the Champions League final last month won't have helped their relationship, despite finishing joint-top goalscorer in the Premier League last season with 20 goals.
This could leave room for another striker in the Scot's squad next season alongside Wayne Rooney, Michael Owen and Hernandez, as well as the returning Danny Welbeck and Federico Macheda after loan spells.
The Manchester United manager's pedrigree in the transfer market has been dented in recent times following the signings of Gabriel Obertan and Bebe, but the success of Chicharito shows the value of taking chances.
Torres is still quite raw and would definitely need time to develop; this would certainly be a signing for the future. Sir Alex is keen to uncover more talent from Latin America and is reported to have sent scouts to watch the Mexican in action against China in a friendly match on Monday.